Frankie Dettori says last 18 months were worst of his career
Last updated on .From the section Horse Racing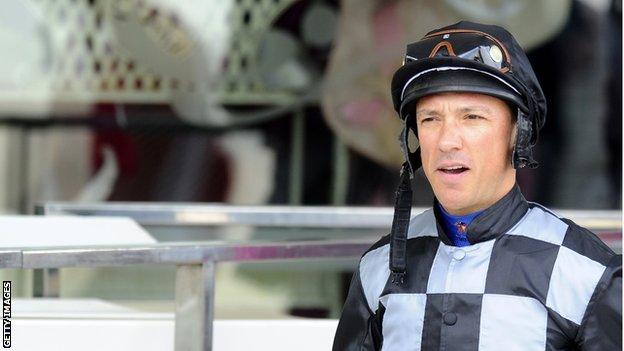 Frankie Dettori says he wants to put "the worst period of his career" behind him as he returns from a drugs ban.
The 42-year-old plans to be in action at several racetracks this week after finishing down the field on First Cornerstone in Sunday's French Derby.
The three-time champion jockey told the BBC he has set a target of 100 winners for the season, and believes he can continue at the top until he is 50.
"The last 18 months have been the worst of my life in terms of work," he said.
"Now it's just a case of restarting again and getting the love back."
Dettori was banned from racing for six months after testing positive for cocaine at Longchamp in France last year.
He said he let his family down by taking the drug in a moment of weakness during a period where he had slipped down the pecking order at Sheikh Mohammed's Godolphin racing operation.
His role as number one jockey was no longer guaranteed and the 18-year partnership ended in October, before news of his positive test emerged.
Dettori, who is now riding as a freelance, returned at Epsom on Friday with three rides and, after his French trip, is expecting a busy week.
"I'm at Windsor on Monday, Yarmouth Tuesday, Kempton on Wednesday, and Sandown on Thursday," said Dettori in his first interview since his comeback.
Dettori rode out for Godolphin's Irish rivals Ballydoyle at their Tipperary base run by trainer Aidan O'Brien earlier in the month, and it is understood he may travel to Ireland for Leopardstown's evening meeting on Friday.
After winning the Derby at Epsom with Ruler Of The World on Saturday, O'Brien hinted that Dettori could soon be riding some of his horses on the track.
Dettori had been linked with a potential Derby ride for the Ballydoyle team, possibly on Ruler Of The World, but a delay in getting the all-clear to return from France Galop, French racing's rulers, meant his first rides came 11 days later than his original comeback target of 20 May.
"Frankie has a talent that you are born with. The lads make all the decision and they are usually common sense," O'Brien told the BBC.
'He hasn't ridden for six months so going into something like that (the Derby) would have been like a tennis player going straight into Wimbledon.
'We are very lucky we have great riders and Frankie is there now as well. He is available to everybody and he'll be better for the experience.'
Dettori prefers not to talk about the issue with France Galop, but hopes his return to the country will pay off in a race he has won three times before, including in 2007 when he triumphed on Lawman 24 hours after his only Epsom Derby win, with Authorized.
"I was contacted last week about the ride. It's a race that has been quite lucky for me and looks wide open," he said.
Citing the recent success in the United States of 50-year-old jockey Gary Stevens, Dettori believes he has several years left at the top of racing.
"It's quite scary going into the unknown. I'm starting from scratch again but think I can ride until I'm 50. Look at Gary Stevens," he said.
"I'm still in my prime and will carry on as long as I can, with all the major races as my target."
Asked about specific future goals and the possibility at some stage of bidding for a fourth champion jockey title, Dettori replied: "It's not something I have thought about too much really.
"I've got to be realistic, try to ride as many winners as I can, without burning myself out.
"If it happened that I had a great start, a purple patch, then I might pursue it but at this stage I will try to get 100 winners this season."
The Italian-born rider, who famously rode seven winners on the same card at odds of more than 25,000-1 at Ascot in 1996, is looking forward to riding at the five-day Royal Ascot meeting which starts on 18 June.
"Royal Ascot is around the corner so I'm concentrating on that. It is my favourite meeting, I have ridden 50 winners there, and it's the ultimate - the Olympics of horse racing," he said.
But he is unsure whether he will ride again for Godolphin, which has seen its own drugs problems, with trainer Mahmood Al Zarooni banned for eight years in April for doping racehorses.
"Whether that happens is not down to me. I'll just continue to spread myself around a bit," he added.