Godolphin doping: Mahmood Al Zarooni drops ban-length appeal
Last updated on .From the section Horse Racing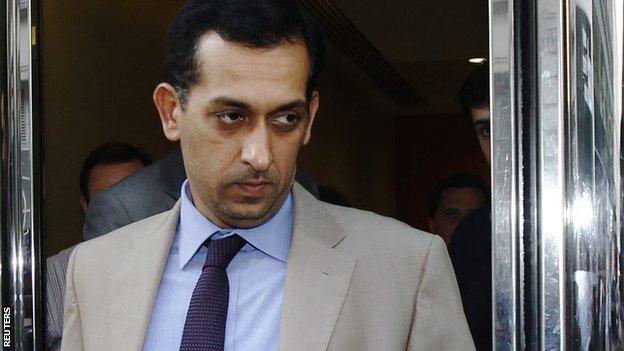 Former Godolphin trainer Mahmood Al Zarooni has withdrawn an appeal against the length of his eight-year ban for doping racehorses.
Dubai-born Al Zarooni, recruited by Sheikh Mohammed's racing operation in March 2010, had admitted giving banned anabolic steroids to 15 horses.
The 37-year-old was banned following a disciplinary hearing three days after news of the scandal broke in April.
Earlier this month, he said he would appeal but has reversed his decision.
The scandal became public on 22 April when Godolphin issued a statement in which it said 11 horses, including unbeaten 1000 Guineas contender Certify, had tested positive and Al Zarooni admitted a "catastrophic error".
At a subsequent disciplinary hearing, the trainer - formerly based at Moulton Paddocks stable in Newmarket - was banned for eight years after also admitting to doping another four horses.
Seven more racehorses trained by Al Zarooni then failed tests for anabolic steroids on 20 May, including the 2012 St Leger winner Encke.
The trainer said he had not been aware anabolic steroids were banned at all times in British racing.
In other jurisdictions they are allowed under certain circumstances. In Dubai, they are permitted so long as they are not given to horses within 28 days of a race in which they take part.
In the findings of the panel, published on 30 April, Al Zarooni was accused of a "deliberate flouting" of the rules and "widespread systematic misuse of illegal substances".
The trainer said he brought the anabolic steroids into the UK in his luggage from Dubai, made up five unmarked syringes full of drugs and passed them to an unqualified veterinary assistant through a car window to inject into the horses. He also told the inquiry he put the steroids in the feed of other animals.
Godolphin is run by the ruler of Dubai, Sheikh Mohammed bin Rashid Al Maktoum, who has "locked down" the stables in Newmarket where Al Zarooni trained.
The British Horseracing Authority said it would now seek legal advice before deciding whether to take any further action against Al Zarooni.
Spokesman Robin Mounsey said: "Having learned today about the fact that the appeal has been withdrawn, we will now review our position and take legal advice before deciding how to deal with the additional positives."