Newmarket trainer Gerard Butler faces horse racing steroids inquiry
Last updated on .From the section Horse Racing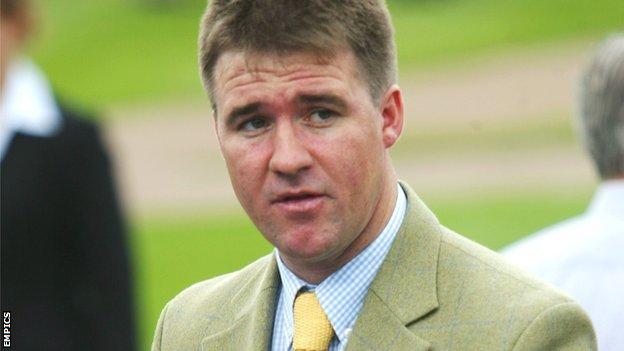 A second Newmarket trainer faces a British Horseracing Authority inquiry for giving racehorses banned steroids.
Gerard Butler told the Independent several of his horses had treatment for injured joints, but he had been assured the substance did not breach rules.
Nine of Butler's horses tested positive but he said more than 100 in Newmarket will have been given the same drug.
Godolphin trainer Mahmood Al Zarooni was given an eight-year ban on Thursday
Following Butler's newspaper interview, the BHA confirmed on Monday it was investigating after obtaining positive samples during tests at the trainer's yard on 20 February.
"The investigation has established that the source of the positive samples was a veterinary product, licensed in the EU and legally imported for use by a veterinary practice, the initial administration of which was recommended by a vet," said a BHA statement.
"This investigation remains ongoing and a number other parties have been and will be interviewed, including representatives of the veterinary practice in question.
"One of the objectives of this investigation is to clarify the extent to which this product has been distributed and administered to horses in training."
These fresh revelations widened the scale of a story which had previously only centred on a stable of more than 200 horses run by Al Zarooni for the Dubai-based Godolphin operation, which is headed up by Sheikh Mohammed.
Earlier, a statement from Suffolk police said the force was "working with the British Horseracing Authority to establish if any criminal offences have been committed".
The force declined to comment any further on potential areas of inquiry.
Anabolic steroids are banned in British horse racing, although allowed out of competition in countries including Australia, Dubai and the United States.
Butler told the BBC that the Independent story was correct and that the drug - called Sungate, which contains stanozolol - was recommended by a vet.
"Over the last few days I have been very uneasy about the Al Zarooni case and felt that I needed to let the general public know what has happened in my yard," he said.
"Now I would like only to concentrate on helping the BHA with their investigation."
Butler, 47, was born in Ireland and picked up experience at top training yards around the world before settling at Egerton House Stables in Newmarket five years ago.
Unlike the Al Zarooni case, Butler said the treatment came recommended by vets and he included the injections in his official medical records which were seen and returned by the BHA without comment.
He believes Sungate, the medication he used to treat horses' joints, has been "misunderstood by many others".
Fellow Newmarket trainer John Berry offered his support for Butler on the social networking site Twitter.
"What comes across most strongly is Gerard Butler's candour, frankness & honesty. Would be v. sad if he gets rubbed out for this," he said.
The new revelations come on the day a BHA team begin drug testing the 150 remaining horses at Al Zarooni's Moulton Paddocks stable in Newmarket.
It was a BHA visit on 9 April, which later found 11 horses had tested positive for banned anabolic steroids, that led to the Dubai-born trainer being banned from racing for eight years. He also admitted giving a prohibited substance to four other horses.
Of the 11, four tested positive for stanozolol. The other seven, including former 1000 Guineas favourite Certify, were found to have ethylestrenol in their systems.
Simon Crisford, a spokesman for the Godolphin operation owned by Sheikh Mohammed, said Al Zarooni would not work for the outfit again.
As British racing faces the biggest doping scandal in its history, a separate corruption hearing was starting on Monday at BHA headquarters in London.
Newmarket-based jockey Eddie Ahern, plus former West Brom defender and racehorse owner Neil Clement, are among six people accused of breaching racing's rules.
The hearing, the latest in a succession of anti-corruption inquiries held by the BHA over the last few years, is scheduled to last until Friday 3 May.
Five days before the first Classics of the season, Saturday's 2000 Guineas and the 1000 Guineas on Sunday, much of the talk in racing is not of favourites and potential Newmarket winners, but a crisis gripping the sport off the track.