Cheltenham Festival: Emotional final day as life goes on
By Frank Keogh
BBC Sport at Cheltenham
Last updated on .From the section Horse Racing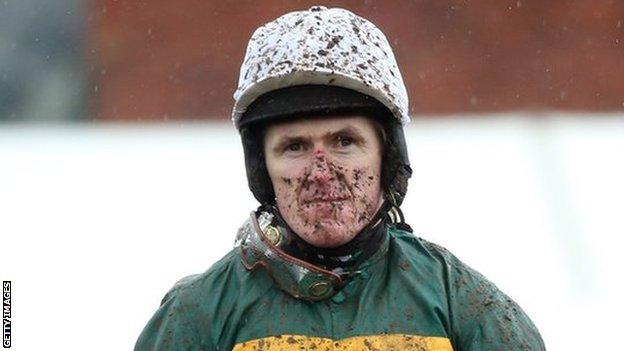 While others suffer, life goes on, and on an emotional day at Cheltenham, it is tough to find the right words.
As a crowd of 67,000 were cheering on the Cheltenham Gold Cup winner Bobs Worth, the family of jockey JT McNamara were praying for their stricken loved one 40 miles away in hospital.
His plight, and the uncertainty over what the future holds for the seriously injured amateur rider, cast an unusual shadow over jump racing's showpiece day.
An hour before the action started on the final day, as racegoers studied the form and fuelled up for a long afternoon, there was an incredibly poignant few moments in the parade ring.
On the stage where winners are presented with their trophies, 15-year-old Irish singer Mark Boylan performed a ballad in tribute to the late Scottish jockey Campbell Gillies.
A year ago to the day, 21-year-old Gillies was on cloud nine having bagged his first Festival winner on a potential future Gold Cup prospect in Brindisi Breeze.
Who could have foreseen that in the space of under four months, the horse and jockey would die in separate, freak accidents?
Gillies rode for Lucinda Russell, whose partner Peter Scudamore - the former eight-time champion jump jockey - was stood next to me listening to the song, fighting back tears.
Just a few feet away was Clifford Baker, head lad to champion trainer Paul Nicholls, and his wife Sarah.
Twelve months ago, I had chatted happily to them as two-time Gold Cup winner Kauto Star was being prepared to bid for a third triumph, which actually ended with the great horse being pulled up in what turned out to be his final race.
This time, I tried to offer my condolences as their son Dominic had died in a car crash shortly before the Festival. His funeral service is on Tuesday.
The words didn't come. Just tears.
Later, Nicholls finally won his first race of the week - the 26th of 27 contests - with Salubrious, ridden by his nephew Harry Derham.
"I would like to dedicate that one to Dominic, because it has been incredibly tough at home with Dominic dying and to get one for the team is brilliant," said the Somerset trainer.
Jockey Sam Waley-Cohen, an amateur like McNamara, passed on his best to the Bakers.
I spoke to him again as he cradled his saddle walking out of the racecourse having finished third to Bobs Worth on Long Run, and asked him about the mood of the jockeys.
"Everyone is deeply concerned. JT has a big place in the hearts of everyone in the weighing room," he said.
"Now racing is over everyone's thoughts turn to him and family. We just pray he makes a full recovery."
Much is made of what 17-times champion jockey AP McCoy is like when he does not have a winner at the Festival. But after two victories on the final day and a Gold Cup second on Sir Des Champs, the Northern Irishman was downbeat.
"JT is a friend of ours, a colleague," he told BBC Sport.
"He's like a member of the family for JP McManus, he has been working and riding for them for so long.
"It's nice to have winners, but they mean nothing today. You can't take the feeling away. It's very sad."
Multi-millionaire McManus, who owns well over 100 horses in training, had just seen his famous green and gold silks in a 1-2 finish, won by Alderwood, in the final race of the Festival meeting he adores.
He has provided many of McNamara's biggest wins, including no less than seven at Cheltenham on cross-country chaser Spot Thedifference.
But as the light faded after the final race of the 2013 Festival, McManus was another in no mood for a party.
"I'd rather not say anything. Thank you for asking," said JP, his eyes watering, that business of words proving difficult again.
Earlier he had told other reporters of the day being "marred by sadness" and of "feeling guilty" just for being at the course rather than doing something to help McNamara or his family.
Winning the Gold Cup, along with the Grand National at Aintree, is right up there in the ambitions of jump jockeys, who court with serious injury every day of their working lives.
After Geraghty triumphed in the race on Kicking King in 2005, he caroused and laughed, high on life. The champagne had been popped again this time, but the bubbles were flat.
"John Thomas is a very popular fella. I'm 33 and he's 37 and I've grown up looking at him in races. He's a real gentleman," he said.
"The weighing room has been a much quieter place than normal. That's all we could think about - John Thomas, a great friend of ours."
As ever the Foxhunter Chase, the so-called Gold Cup for amateur riders, followed the big race.
McNamara won the contest in 2007 on Drombeag for McManus. This time it was another win for Colman Sweeney with Salsify after leader Oscar Delta dramatically unshipped 18-year-old rider Jane Mangan.
"I want to dedicate this win to John Thomas. You would travel every single road in England and Ireland to find a bad word said against him and I don't think you'd do it," said Sweeney.
"He is one of my best friends and he was one of the senior lads when I started and he is still one of the senior lads, and that's testimony to how good a rider he is."
McNamara fractured his C3 and C4 vertebrae in the fall from Galaxy Rock in the Fulke Walwyn Kim Muir Challenge Cup on Thursday.
Mick Fitzgerald, now a racing pundit, had his own career ended by a fall in the 2008 Grand National which left him in hospital and fortunate to avoid severe spinal damage.
He knows there is a long road ahead for McNamara, his wife Caroline and their three children.
"It's going to be a tough time. The number one thing, and the greatest thing he can have, is his family around him. That's what he needs more than anything else," said Fitzgerald.
Jockeys held their traditional weighing room party after the Festival. But as the giant machines hoovered up discarded losing bets and tipsy punters cursed their luck, heavy thoughts hung in the air.
"Winners, being victorious at Cheltenham doesn't count because it's all immaterial at this time," Fitzgerald had said earlier.
Perspective. Now there's a word.