Cheltenham 2013: Ruby Walsh is the Festival's opening day master
By Frank Keogh
BBC Sport at Cheltenham
Last updated on .From the section Horse Racing16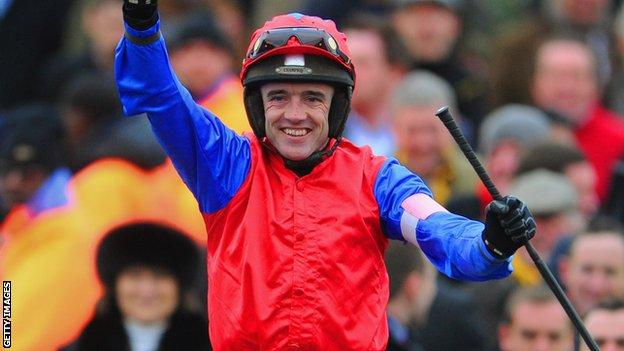 Jockey Ruby Walsh has no spleen and badly sprained his ankle recently. But he has backbone and a razor-sharp mind which more than make up for that.
While his great friend and rival AP McCoy has been lauded for a record-breaking number of career wins and 17 championships, Walsh has become master of the Cheltenham Festival.
His treble on the opening day of the 2013 meeting led some seasoned observers to comment that the 33-year-old may be the greatest National Hunt jockey of all-time.
McCoy's records are a counter-argument to that, but the truth is the pair are leading the way in a golden generation of riding talent.
Northern Irishman McCoy is the ultimate persuader, a man with iron will and refusal to bend. "He's made of concrete," said Walsh in the run-up to his pal winning the 2010 BBC Sports Personality of the Year award.
Walsh, from Kildare in the Republic of Ireland, is the wizard with the magic hands, letting his innate confidence transmit down the reins to his mount.
He certainly reigns supreme at Cheltenham, with a record 37 winners. McCoy, his nearest rival, has 27.
On Tuesday, Walsh used his tactical awareness to steal victory in the opening Supreme Novices' Hurdle on Champagne Fever, galvanised Hurricane Fly to regain his Champion Hurdle title and repeated the trick with a record-equalling fifth successive Mares' Hurdle win on Quevega.
All three of his latest victories were masterminded by another supreme judge of equine flesh - the County Carlow trainer Willie Mullins.
In 18 years of coming to this celebration of jump racing, I have never heard such raucous football-style chants of one man's name as the cries of "Ru-by, Ru-by, Ru-by, Ru-by" that pulsated from the grandstand as he saluted his adoring public.
This was not just a hat-trick, it was a three-card trick from the coolest poker player in town. A touch of cool-handed sporting genius.
"I wouldn't like to play against him anyway," smiled Mullins as I forwarded the poker analogy.
"We are blessed at the moment. He and Tony McCoy have two different styles of riding, but they are both fantastic jockeys and I'm lucky enough to have Ruby, most of the time. He might be the best ever.
"He has huge racecraft and confidence in doing what he does even when it looks as though things aren't going right.
"He has the ability to sit and suffer, which is a fantastic attribute for a jockey and play his card when he needs to play it."
Walsh has been dealt a fair hand, his ability earning the double prime position as first jockey to champion English trainer Paul Nicholls and Ireland's leading man Mullins.
The jockey is a man who tests your shorthand - I once worked out you need about 160 words a minute to capture his words of wisdom.
He talks of horses not being machines and appears happy to play down his own role in their triumphs. Quevega clipped the heels of another runner but steadied before making her charge through the field, he said.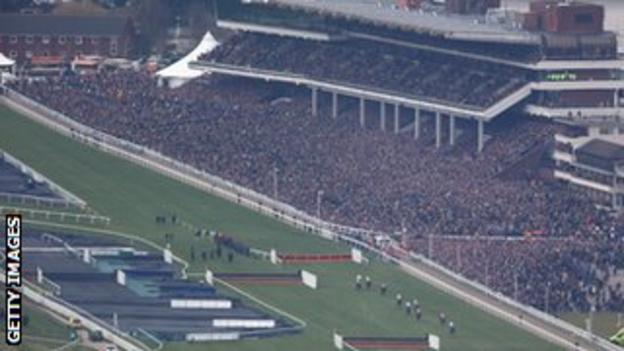 "To come here when it matters, this is what it's all about. When the ball bounces for you, it's great," said the jockey, who had his spleen removed after a fall at Cheltenham in November 2008.
"It doesn't matter who you are, if you ain't got the horse, you're nowhere."
His father Ted, a trainer himself, said Ruby allowed himself a rare weekend off before Cheltenham to help recover from a badly sprained ankle at Leopardstown the previous week.
And he compared his son, an avid Manchester United fan, to a top Premier League player.
"He rides for two of the best trainers in the business. He has access to a lot of good horses," Ted told me.
"No matter how good you are, if you are with some fourth division team, it's not going to click. He's delivering for the top teams.
"He's at a great time in his life now. He doesn't have anything to prove. He's been champion jockey in Ireland many times, he's ridden a couple of thousand winners, including 130 or so Grade One wins, so he's really able to enjoy it.
"He's at the top of his game and if he stays injury free, he's got a good old clock in his head."
For Mullins, the treble took him to 27 career winners at the Cheltenham Festival, beating the record by one (from 1946 to 1971) of Tom Dreaper, whose CV included three Gold Cup wins with the mighty steeplechaser Arkle.
But he paid a small price for the tender care of his dual champion hurdler.
Mullins was sitting gingerly after Hurricane Fly had bitten his bottom earlier in the day.
"He's like a colt and he acts like a colt and you have to check your fingers each time you come out of his box," said the 56-year-old.
"This morning I was giving him his last drink of water, dropped my guard and turned my back on him. To put it politely, I'll only be using one side of a bar stool tonight - he drew blood."
Once bitten, twice Fly, as one wag put it. At least there was no chance of a bum steer with Walsh around.