Kauto Star leaves Paul Nicholls to join Laura Collett in dressage
Last updated on .From the section Horse Racing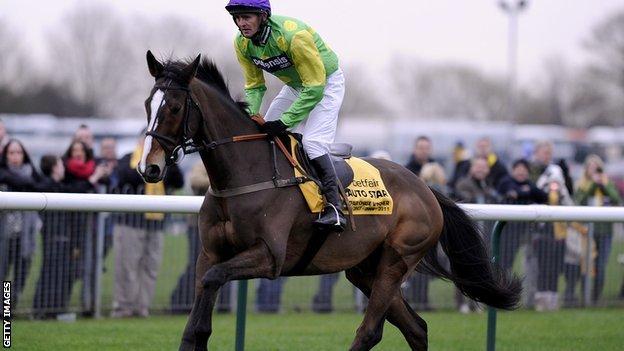 Record-breaking racehorse Kauto Star has left trainer Paul Nicholls to embark on a dressage career.
Nicholls confirmed the news on Twitter, saying: "We have delivered Kauto Star to his new home.
"I am sure he will have the best of everything. Good luck my friend, horse of a lifetime."
Kauto Star is the only horse to have regained the Cheltenham Gold Cup having lost it, but was pulled up when going for a third victory in March.
The 12-year-old made history by winning the King George VI Chase for a fifth time on Boxing Day last year.
Owner Clive Smith had previously indicated Kauto Star could switch to dressage, but he was not expected to leave Nicholls before Boxing Day, when he is due to lead the runners in the parade for the King George.
Nicholls later revealed he had asked Smith to remove Kauto Star from the yard following discussions with his team.
"On [Tuesday] morning I felt the time had finally come for me to take control of the situation, and to start making the decisions," he wrote in his betfair column.
"Now, I am fully aware that Kauto is Clive's horse and he can do as he wishes, even though I would personally have loved Clifford [Baker] to have looked after him for the rest of his years.
"But what upset me and my team here is when Clive announced that he had spoken to experts about the horse's future - but failed to consult and listen properly to the team that had looked after him here for the past nine years. That really upset us.
"So we had a team meeting here [on Tuesday] morning. And after listening to everybody involved - there were about six of us in the meeting - I rang up Clive, said I don't want to fall out, but we think it is in the best interests of everybody concerned to take Kauto to Yogi Breisner's Tuesday afternoon so that he could start his new career in the eventing field as soon as possible.
"We did this with the saddest of hearts. But I like to think with a lot of dignity, too. And, yes, there were plenty of tears too. He was a member of the family here at Ditcheat, and we will all miss him so much."
Smith said he was "extremely disappointed" in the reaction of Nicholls.
"When Paul rang me I was on the runway heading to New York and he dropped the bombshell," said Smith.
"Two weeks ago I had a coffee and a chat with Yogi [Breisner] and he suggested dressage and I was very impressed with the idea.
"Paul Nicholls has made out he didn't know anything about it, but I've kept him informed since May. We talked about eventing and he knew eventually he would be doing something away from the yard.
"We agreed he could stay at the yard until Boxing Day, but at Sandown on Saturday, I told him the dressage thing was coming about.
"We agreed about him leaving the yard and he even said Laura Collett could come and take away the horse. "
Collett, 22, is due to be assisted by Breisner, the Great Britain manager and coach who has overseen medal success at Olympic, World and European level.
"I feel very privileged and extremely honoured to have been asked to ride Kauto Star," Collett tweeted.
"I will be working closely with Yogi to give Kauto Star the best chance of a second career in dressage."
Although bookmakers quoted Kauto Star at 66-1 to win an Olympic gold medal, Breisner said this was unlikely.
"If a horse is going to reach Olympic level, they really need to start their education when they are four or five-year-olds," he said.
"This is just a matter of getting to see if he will settle into a different type of routine in life."