Black Caviar clings on to unbeaten run despite jockey error

By Frank Keogh
BBC Sport, at Ascot
Last updated on .From the section Horse Racing
Strewth! The Wonder from Down Under nearly became the Blunder from Down Under as unbeaten Australian mare Black Caviar just held on for a nerve-tingling 22nd consecutive win.
Jockey Luke Nolen admitted to a rookie error as he dropped his hands close to the line and was nearly caught in the Diamond Jubilee Stakes.
An army of Aussie followers descended on Royal Ascot, but the Antipodean cheers among the 77,000 crowd turned to gasps as the mare almost surrendered her modern-day record unbeaten run.
"Relief, relief relief," replied Nolen, 32, when asked what his emotion was after passing the winning line.
He admitted his "mind had been blown a bit" by intense media focus on the horse and he knew the headlines back home would focus on his ride as much as the landmark victory.
"I underestimated the gruelling six-furlong straight. Because it was such a test for her, she pulled up very quickly and it took me by surprise," he said.
"I didn't have as much experience as other riders here and just let her coast. It was an error every apprentice is taught not to do but I got away with it today.
"I just let her idle at the finish and maybe the big engine just shut down.
"She's now 22 from 22 and that's what it should be all about, it would have been a travesty if she had lost today. Imagine if she had got beat, I'd have probably been stabbed.
"She wasn't her usual self today. On Tuesday morning it felt like she was in career-best form, but until you put them under race pressure, you don't know how they have taken the trip over."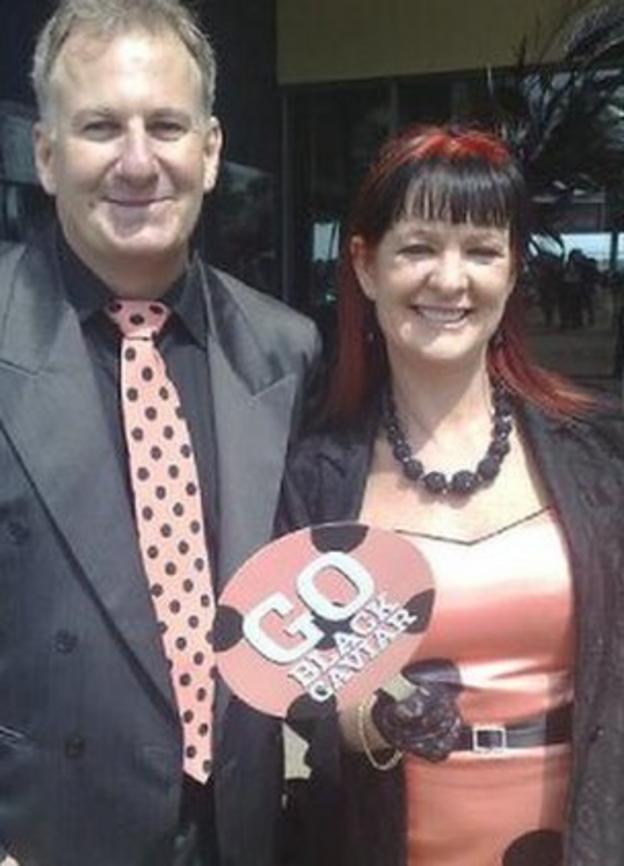 Sent off the 1-6 favourite, the win by just a head and neck from Moonlight Cloud and Restiadargent was dramatic and unexpected.
For some, it may have been an anti-climax after a huge build-up to the race. For others, it showed the hallmark of a champion - winning when not at their best.
The powerfully-built dark brown horse, who weighs about 570 kilograms (88 stone), had been cheered from the pre-parade ring to the paddock and on to the course.
Caps, ties, fans, rosettes, even dresses in her colours of salmon with black spots, were sported by devoted followers.
Among the dress wearers was Juli Forest, here with her husband Billy on a special trip from Brisbane just to see the horse in action.
"Black Caviar is amazing. She's the people's horse. Everyone involved has so much respect for her," said Juli, 42.
"The support here has been surreal. It makes you proud to be an Australian."
Billy added: "It's just phenomenal. She's bigger than [cricketer] Shane Warne back home, and gets into less trouble with the media."
Even the Queen took a keen interest in the first lady of racing, inviting Black Caviar's 10 owners for a chat after the first race.
While Ascot enjoyed sunny spells, thousands of revellers gathered in Melbourne's Federation Square to cheer the mare on at 00:45 their time, even though the temperature was 9C (48F).
Despite winning, Melbourne trainer Peter Moody conceded the mare had underperformed.
"She never travelled as keenly and strongly as she does at home and I had concerns half a mile out," he said.
"Only her grit got her home - Luke was trying to look after her, and while he nearly got caught short, he got the job done.
"Australians are pretty resilient people and they will have been watching her in drizzle back at home, but while it was a little bit of heart-in-the mouth stuff, she didn't let us down."
Black Caviar had never been on an aeroplane before she spent more than 30 hours on a 10,000-mile flight from Melbourne to Heathrow earlier in the month.
Moody admitted the trip may have taken its toll and retirement could be an option if she does not recover from her exertions.
"I won't hesitate in any shape or form, but let's not put the cart before the horse," he said.
"I was asked last night if she was at her absolute best and I said 'I don't think she's ever been to the races in that peak because she's had a lot of niggly injuries' - throw a 10,000-mile trip into the mix and she's done one hell of a job."
Internet betting exchange Betfair reported the biggest ever trading on one horse in its 12-year history as £12.6m of the £13.2m wagered on the race centred on the mare.
While the world's second top-rated horse failed to match the heights of the first, Frankel - - she remains undefeated.
Co-owner David Taylor, who watched the race from near to the winning post, said: "I didn't have any doubt she won, but we had some anxious moments.
"Luke will consider that he's had better rides but winning by an inch is as good as a mile."