Ger Lyons is loving life on the Flat ahead of 1,000 Guineas

By Cornelius Lysaght
BBC horse racing correspondent
Last updated on .From the section Horse Racing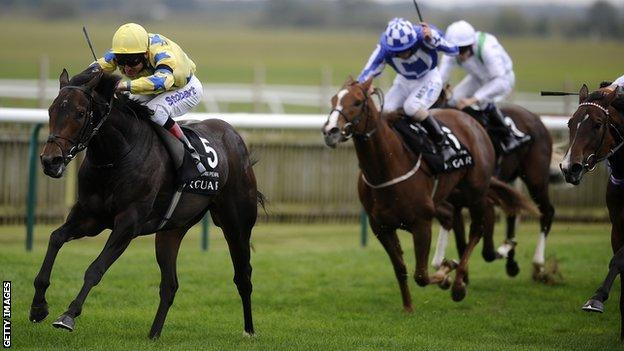 One-time jump jockey Ger Lyons is not quite sure how it happened, but there is no doubt that his conversion to the Flat is now complete.
The trainer of Qipco 1,000 Guineas hope Lightening Pearl, who once "lived and breathed nothing but jumping", now runs perhaps the most upwardly mobile Flat-racing stable in Ireland.
Indeed, last autumn, Lightening Pearl, owned by the Classic's sponsor Qatari Sheikh Fahad Al Thani, gave Lyons an initial success at the sport's highest level - in Newmarket's Group One Cheveley Park Stakes.
"It's been an amazing switch," explained the trainer. "When I was a jockey, if the Guineas or the Derby had been in my back garden, I'd not have watched it; now they mean everything."
It is a surprise to those who recall Lyons, 46, as a stalwart of the National Hunt circuit in the north of England and Scotland during the late 1980s and early 90s that he won just 49 races.
These days that is the kind of tally the 70-horse team based at Glenburnie Stables, north of Dublin, in County Meath is not far off achieving in a single season.
However, with Irish racing so dominated by a small number of trainers, headed by Aidan O'Brien and his legions of well-bred runners, breaking into the big league was never going to be speedy.
But a string of lucrative results, particularly with two-year-olds - like the 2007 Royal Ascot winner Elletelle - has seen Lyons's reputation rise relentlessly.
Not so long ago, many of his winners were sold on, but less so now and the fact Lightening Pearl is a first runner in a Classic race gives an idea of the progress being made.
"When I set this place up, I believed that one day I would have a Sheikh in it, and with Sheikh Mohammed as well as Sheikh Fahad, I've got two," he said.
"Getting to this sort of situation is what I planned to do, so when people have been asking if I am excited about the Guineas, I say not so much excited but I have nervous anticipation."
The recent wet weather in Britain has not been ideal, but otherwise preparations for the filly's big day, when she will be ridden again by top jockey Johnny Murtagh, have gone well.
Lightening Pearl has won three of her five races, but one of the defeats came when finishing third behind Aidan O'Brien's big-race favourite Maybe - the opponent that the Lyons team will most fear on Sunday.
"I can't be sure about the mile [distance] of the race for my horse," he said, "and I will be very nervous through the final furlong until we do it.
"That said, anyone who saw her maiden win [at Roscommon] would have said she'd stay, though she has great speed too.
"Otherwise, she's the same size and weight, which could be a negative. I was hoping she'd be a bit heavier. But she looks well and she's happy. Deep down, I think she'll be OK."