Grand National: women bidding for Aintree history
By Frank Keogh
BBC Sport at Aintree
Last updated on .From the section Horse Racing
The Grand National at Aintree is renowned for its fairytale winners and the 2012 race provides the potential for a groundbreaking victory.
On Saturday, two women have leading claims to become the first female jockey to win the gruelling four-and-a-half-mile race over 30 demanding fences.
Amateur Irish riders Katie Walsh and Nina Carberry will not only have to beat history, and each other, but their own National-winning elder brothers who are competing against them.
Katie is aboard Seabass for her trainer father Ted after brother Ruby chose to partner On His Own for Willie Mullins.
Nina is on the 2011 Irish Grand National winner Organisedconfusion for trainer uncle Arthur Moore, while her brother Paul rides the Gordon Elliott-trained Chicago Grey.
In February, Nina married Ted Walsh Jnr - Katie and Ruby's brother - with Katie as bridesmaid and Ruby Walsh the best man.
Bookmakers rate it a 10-1 chance that one of the women will triumph and Katie, 27, believes that time is approaching as she prepares for her first National ride.
"We're not treated any differently and we wouldn't expect to be, but at some stage a woman is going to win a Classic on the Flat or the Grand National and I just hope it's me," said Katie, who walked the course with Ruby on Thursday.
"I'm looking forward to it - it's a great opportunity and I might never have a ride in the race again so I just want to enjoy the whole thing."
Her father Ted easily reels off all his daughter's victories one by one, including the win on Seabass at Limerick in December which was her 10th over fences and meant she qualified to ride in the National.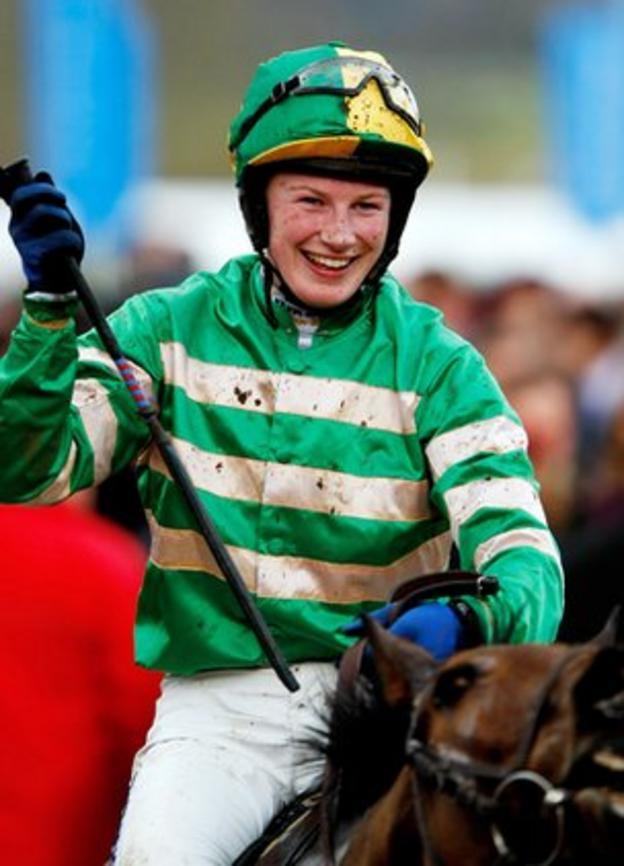 Victory would provide the ideal present on his 62nd birthday, and he admitted winning this time might be even more special than the 2000 National when Ruby scored on Papillon.
"That was 12 years ago and this would probably be even better," he said.
"I hope Katie comes back with a smile on her face, wherever she finishes."
And if his daughter was to deny his son?
"I'd say Ruby would be more pleased if Katie won it than if he won it himself," says Ted.
Nina has completed the National on all three of her previous rides - finishing ninth on Forest Gunner in 2006 and seventh and 15th with Character Building in the last two runnings.
She said friendship and family loyalties will be put to one side as 40 runners line up for the big race.
"Everyone is against each other when you are in a race," said the 27-year-old, whose brother Paul rode Bobbyjo, trained by father Tommy, to victory in 1999.
"There's a friendly rivalry, but once you are out there you want to win.
"I hope nothing falls in front of me or brings me down. You can prepare so much but after that you need a bit of luck on your side. It's a lottery.
"You're hoping that everyone gets round safe and sound and all get a good spin. You need a good horse and hope things go right. The horse doesn't know whether there's a girl or boy on his back."
In 19 runners, with 14 different jockeys, the best finish by a woman in the race so far has been fifth.
But former top jockey Mick Fitzgerald has no doubts that Nina and Katie are up to the challenge.
"They have both won at the Cheltenham Festival and are as strong as any bloke riding," said Fitzgerald, who won the 1996 National on Rough Quest.
A landmark victory would be a fitting finale as commentator Jim McGrath calls the National for BBC TV for the 20th time and the last before the race switches to Channel Four next year.
The Australian said it would bear echoes of the classic 1940s movie National Velvet in which a young Elizabeth Taylor played a schoolgirl who realised her dream by winning the Grand National on her beloved horse The Pie.
"The dream story for me would be Nina Carberry beating Katie Walsh after the two sisters-in-law are involved in a tussle around The Elbow and up to the finish," he said.
"That would be perfect, like National Velvet."