Trainer Graeme McPherson fined £3,000 over 'non-trier' rules

By Cornelius Lysaght
BBC horse racing correspondent
Last updated on .From the section Horse Racing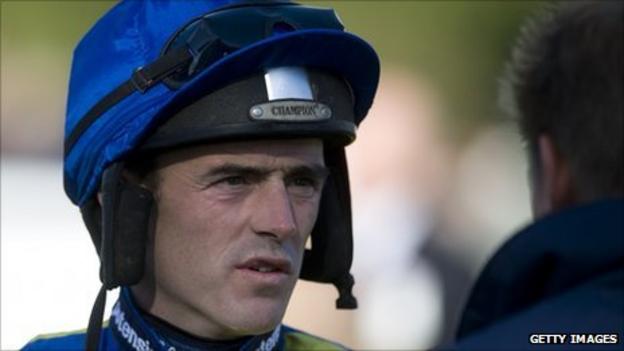 Officials at the embattled British Horseracing Authority (BHA) may well agree that it never rains, it pours.
As they work to contain the ongoing controversy over changes to the whip rules, they find themselves with a new and altogether more embarrassing situation with which to deal.
Barrister-cum-racehorse trainer Graeme McPherson QC, a member of the Authority's own legal team, fell foul of the so-called 'non-trier' rules over the running of a horse at Chepstow.
The stewards adjudged the McPherson-trained Traditional Bob had been 'schooling in public' when finishing well from the back of the field to be fifth in the Toteplacepot Novices Hurdle.
Rule 45.3 states a trainer must not send any horse to race with a view to schooling or conditioning the horse, it must always be run to gain the best possible position.
The trainer was fined £3,000 (from a range of £2,500 to £4,000), while the jockey, Jodie Mogford, received a 14-day suspension (range: 10 to 18). The horse was barred from running for 40 days.
"I'm very disappointed with the decision," said the barrister/trainer. "The horse was ridden to win his race."
He has not yet decided about appealing, but as a senior lawyer may have little choice.
As a QC, McPherson is a well-known figure at the BHA, regularly acting on behalf of the Authority, and famously being involved in heated exchanges with trainer Aidan O'Brien during one memorable hearing.
To add to the awkwardness, he is also a member of the six-strong BHA Rules Committee.
With the whip row continuing, and in the midst of a hearing at which four jockeys and one former rider are facing 'corruption' charges, this is a further distraction that racing's regulators could have done without.
Although the threat of strike action by jockeys over the whip is receding, two of the sport's biggest riding names, Ruby Walsh and Johnny Murtagh, both Irish-based, are likely to boycott any other than the biggest British races.
Both claim that the risk of suspensions - which usually apply worldwide - makes it not worth their while to chase run-of-the-mill prizes.
Murtagh said: "These are bad rules introduced for the wrong reasons.
"You won't see me in the lead-up to major meetings like Royal Ascot and races like the Derby any more. I'll probably draw the line at Group [top] races only."
Ruby Walsh, who is to appeal against a five-day ban imposed under the new whip regulations at Aintree, did not take rides he had been expected to take at Chepstow, and is yet to decide about the big weekend fixture at Wetherby.