Johnny Murtagh and Ruby Walsh to cut British rides over whip rules
Last updated on .From the section Horse Racing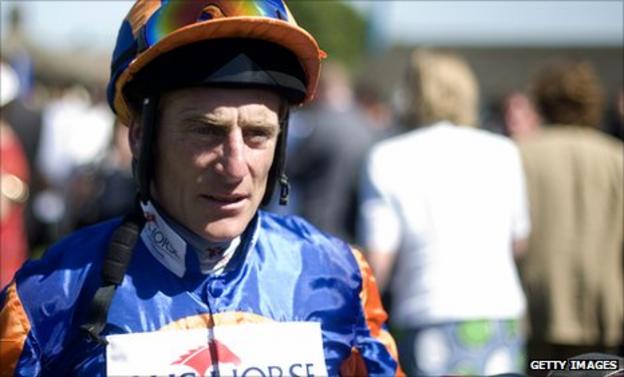 Johnny Murtagh is to follow fellow Irish jockey Ruby Walsh by reducing his riding appearances in Britain because of the controversial new whip rules.
Three-time Derby winner Murtagh insists he cannot risk picking up lengthy bans handed out for exceeding whip limits.
"These are bad rules introduced for the wrong reasons," said the 41-year-old.
Walsh ruled out riding at some meetings after he was given a five-day ban for exceeding the eight-strike jumps limit at Aintree, which he has now appealed.
Murtagh rode at Newbury on Saturday after being persuaded by trainer William Haggas but will now curtail his riding in Britain.
"I cannot risk these lengths of bans when I come over to Britain," he said.
"You won't see me in the lead-up to major meetings like Royal Ascot and races like the Derby any more. I'll probably draw the line at Group races only.
"I spoke to my boss John Oxx and he told me not to be going across to Britain for ordinary races. It's just too risky."
Walsh, 32, will not risk a further ban by riding at Chepstow on Tuesday but has decided to race at Wetherby on Friday.
"Every ride I take in the UK from now on has to be seriously calculated. It has to be worth the risk," he said.
"The rules are well regulated here in Ireland. They are discretionary and common sense is used.
"I think that is the bit that is missing in England. Common sense seems to have gone out of the window."
Professional Jockeys Association (PJA) Chief Executive Kevin Darley said: "I have huge sympathy for Johnny, Ruby and all the Irish boys.
"They risk picking up long bans for minor offences in Britain that will stop them riding at home.
"It's understandable they are going to restrict themselves to only the top races in this country."
Tougher new rules restrict jockeys in Britain to using the whip seven times in flat races and eight over jumps.
On Saturday Walsh struck his mount nine times, one above the new maximum, in the two-mile handicap chase which he won by a nose from The Cockney Mackem.
A day earlier, the British Horseracing Authority (BHA) had agreed to some amendments of the new rules but many riders remain unhappy with the penalties, and the PJA was forced to call on its members not to take strike action.