Mickael Barzalona in demand after Pour Moi's Derby win

By Cornelius Lysaght
BBC horse racing correspondent
Last updated on .From the section Horse Racing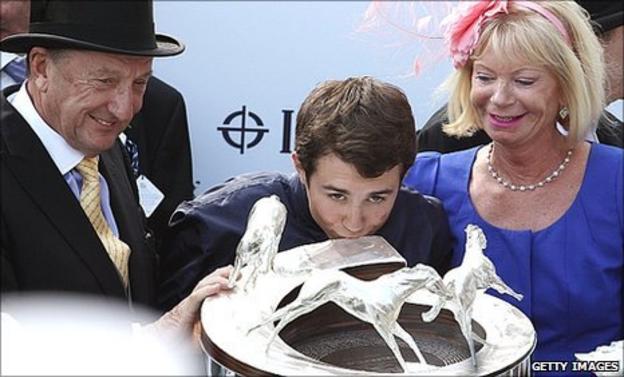 It took just over two minutes and 34 seconds for Pour Moi to be propelled to racing superstardom in the Epsom Derby; in the process he was not emerging at the sport's summit seulement.
While the French colt's owners, partners in the Irish-based Coolmore racing empire, and his trainer Andre Fabre have long seen their names emblazoned in lights, the winning rider has not.
But how quickly things change.
During those 154 seconds, Mickael Barzalona, aged just 19, became the brightest young prospect in European racing.
And how the baby-faced assassin of his 12 rivals celebrated, so extravagantly in fact that despite the very grown-up, last-to-first win, eyebrows were raised, and the stewards felt it necessary to 'have a word'.
The youngest rider to lift Flat racing's best-known prize since Walter Swinburn on Shergar (1981), Barzalona stood up in the stirrups to salute the crowd even before actually hitting the finishing line.
Twenty-two time champion French trainer Fabre, finally getting on the Epsom Derby's scoreboard after 30 years of trying, is renowned as a stickler.
But in response, he gave a Gallic shrug, saying: "He is only 19."
Later, behind closed doors, the words may have been a touch less diplomatic.
Neutral onlookers were split. On the one hand, some delighted in the very human reaction to a brilliant performance, while others will never have any truck with such potentially hazardous showmanship.
Whatever the rights and wrongs, everyone agreed the result signalled the arrival of Barzalona, a man tipped now to reach similarly lofty heights as his (nearly) namesake football team.
Born in Lyon in August 1991, the nephew of a jockey and grandson of a Corsican trainer, he joined Fabre from the apprentices' school.
Although initially rugby-mad, the teenager's head was soon turned towards race-riding by an impressed Fabre, who recommended his protege to Sheikh Mohammed.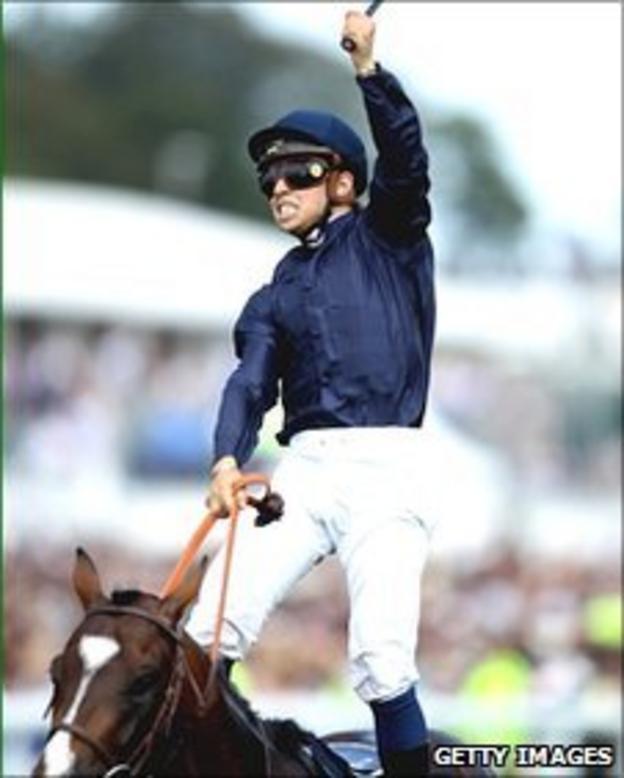 Barzalona wasted no time repaying the support, notably winning Dubai's UAE Derby in March on Khawlah for the Sheikh's Godolphin stable.
In Britain this season, he has partnered a string of winners, mainly for Godolphin.
And that's what makes Barzalona's Derby success on Pour Moi so intriguing: it was achieved in the silks of John Magnier and his Coolmore colleagues, the Sheikh's arch rivals.
And it just so happens that both racing operations, massive global affairs each, are in need of sorting out jockey arrangements.
Although the Arabs' man, Frankie Dettori, is showing no immediate signs of retirement at - believe it or not- 41, the Italian won't go on forever.
In contrast, there has been a vacancy in the Coolmore hotseat since Johnny Murtagh quit, and a 'best available' policy - sometimes involving Ryan Moore - is being employed.
There is no reason why the Frenchman could not fit perfectly into either role.
At the Derby presentations, Barzalona's grasp of English didn't allow him to say much, and from the stage, he simply beamed: "Fabuleux."
A fabulous win, and a fabulous position in which the young jockey finds himself.