Derby 2011: Queen's dream dashed by French resistance
By Frank Keogh
BBC Sport at Epsom
Last updated on .From the section Horse Racing
And so the Queen's dream of finally winning the world's greatest flat race was denied by the French resistance.
Her Majesty's race favourite Carlton House played his part in one of the great renewals of the Derby at Epsom, but Pour Moi spoiled the party with a spine-tingling last to first success.
A dashing double burst of acceleration under teenage Derby debutant Mickael Barzalona ensured victory on the line.
As the audacious 19-year-old French rider stood in his riding irons and actually saluted the crowd before the race was over, the reigning monarch 66 years his senior could only watch on.
Carlton House, trained by five-time Derby winner Sir Michael Stoute, had gained widespread media focus and the goodwill of many in the country as the Queen sought a first winner in a tenth attempt to win the contest.
After two races had been run on Derby Day, Her Majesty even got some extra moral support as Prince William and his new wife, the Duchess of Cambridge, swept into Epsom under police escort with Prince Harry for company.
Following the Royal Wedding in May and a historic trip to Ireland where this supreme admirer of the equine form enjoyed a trip to see some top thoroughbreds, it seemed like fate would be on the Queen's side.
Once a late injury scare was surmounted, the horse gifted to her by Dubai's ruler Sheikh Mohammed, was on track to provide a reigning monarch with a Derby winner for the first time since Minoru obliged for King Edward VII in 1909.
A bumper crowd of 120,000 gathered in top hats, on open-top buses and with a fair smattering of Union flags as they packed the Downs.
The horse, ridden by triple champion jockey Ryan Moore and trained by five-time Derby winner Sir Michael Stoute, may have been slightly unlucky to be given a wide draw in stall 13 of 13 runners, which meant his rider was forced wide round the tight, rollercoaster track.
But you could hardly argue with the manner of Pour Moi's victory.
In the old days, a Frenchman called Barzalona triumphantly waving his country's red, white and blue tricolour as royalty looked on, might have feared a trip to the Tower.
This time it was merely a towering performance from horse, rider, and supremely gifted champion trainer Andre Fabre.
Not unlike the Queen, the 22-times champion French trainer had long sought victory in this race that boasts a purse topping £1.2m but a price much greater in the stud fees that a triumph will generate in the future.
In nine attempts, he had never been better than fifth.
"This is special as he is a horse with a great deal of speed and style which wouldn't really fit Epsom so it makes it all the more exceptional. His acceleration is that of a champion," said Chantilly-based Fabre, 65.
When asked about Barzalona's celebration, he said: "He's only 19."
Stoute scored a memorable success in the race 30 years earlier when Shergar secured a record 10-length win under the last teenage jockey to win, another 19-year-old Walter Swinburn.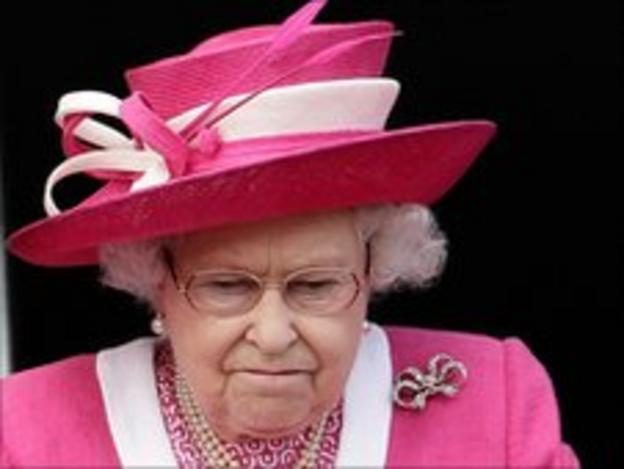 Barzalona had no time for regal sentiment and stewards expressed their concern afterwards at the timing and manner of his celebration.
That remarkable victory salute began before the finishing line, saw him standing in his stirrups and raising his left arm with his whip in the air. The nerveless joy of youth.
Barzalona was given a one-day ban for using his whip with excessive frequency, but this is one day he will remember if he lives to the Queen's age.
"I was not worried about being last for much of the race as I had all the other good horses before me. I hoped they would take me along and that is what happened," said the Lyon-born rider.
"He gave me an immediate response and horse after horse came to me when I asked him to go. I thought I would finish fourth or fifth but he went on and on.
"I didn't really plan the celebrations at the finish - it just happened."
Moore declined to comment after the race, but the Queen's racing manager John Warren indicated he was disappointed and felt the result might have been different in other circumstances.
Stoute appeared to rue the minor ankle strain his horse - who also lost a shoe in the final furlong - suffered in the build-up.
"He had a hold-up close to the race and during it he got too far back and then had to run wide into the straight," said the Newmarket trainer.
"He's still a high-class horse and he will have a big day."
There is the enticing prospect that day could see the Queen getting her own back on French soil should Carlton House reoppose Pour Moi in Europe's final big championship race of the season, the Prix de l'Arc de Triomphe at Longchamp in October.
Pour Moi's part-owner Michael Tabor, a former East End bookmaker and West Ham fan, appears to relish the prospect.
"The Arc is the race to win in France. Every trainer wants to win it and Andre has won it a few times [seven]," he said.
"Plans can change but the Arc will be the plan and he will have a prep race before it.
"We were here to win but we hoped that if we didn't that the Queen would, but we can't change the result."
The Derby is known as one of the Classic races. And the 2011 running lived up to its name, albeit without the royal winner many had craved.
Certainly Carlton House did not have everything fall into his place but Pour Moi - or For Me in English - was a worthy winner for me.