Epsom Derby: By Royal appointment?
By Frank Keogh
BBC Sport at Epsom
Last updated on .From the section Horse Racing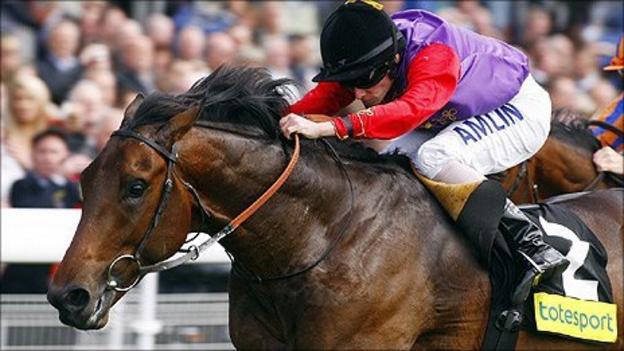 An extraordinary build-up to the world's most famous flat race will climax with potentially one of its biggest stories when the Queen's horse Carlton House lines up as favourite for the Epsom Derby on Saturday afternoon.
Her colt, a gift from another powerful backer of racing in Sheikh Mohammed, appears to be over the injury scare which left followers on tenterhooks in the days before the contest.
The ruler of Dubai gave the horse to the United Kingdom's monarch as a thank you after she refused to take a price for a quirky horse she owned called Highland Glen and he returned the favour with four yearlings that included Carlton House.
His Highness even tweeted his support for Her Majesty on Thursday, despite his Godolphin racing team having their own runner, Ocean War, in the race that he has yet to win.
"A weekend of exciting horse racing for Godolphin, but the highlight will be if the Queen of England's Carlton House wins the Epsom Derby," he told more than 400,000 followers of his Twitter feed.
A world away from the sun-baked rolling Surrey downs at the High Court in London, an unprecedented legal battle has been unfolding as a racehorse owner tries to stop six-time champion jockey Kieren Fallon riding in the race.
Seven hours before the Derby is due off, Ibrahim Araci, the Turkish owner of Native Khan, will find out if he has been successful in winning an appeal, which would grant him an injunction preventing Fallon riding after claims he had breached his contract by deserting the horse to ride Recital.
There is no chance of those associated with Carlton House changing loyalties as the racing world holds its breath.
The Queen has been coming to this fabulously colourful stage, where open-top double deckers and fairground rides lend a carnival air, for eight decades.
But in nine attempts, she has yet to savour the glory of winning the premier Classic with one of her horses.
Her last runner, Church Parade, was fifth in the famous 1981 Derby behind Shergar and her closest call came in Coronation year when Aureole was pipped by Pinza.
To rub salt into the wounds, the winning jockey in 1953 was the newly-knighted Sir Gordon Richards, finally landing the race at his 26th try.
The Queen does not attend Epsom in an official capacity. It is her relaxation. She adores the thoroughbreds, is fascinated by their breeding, studies the form and breathes in the atmosphere.
When her colt, one of 25 horses she currently has in training, squeezed through an opening before winning his Derby trial at York last month, his owner knew it was a good sign.
"When I was talking to the Queen from the track, and she was elsewhere, she said: 'He's gone straight through the gap,'" said John Warren, her racing manager.
"It was an inevitable reaction with her trained eye. She was impressed with his mentality."
Warren has kept the public up-to-date on the horse, trained by Sir Michael Stoute, on what he refers to as "an injury scare".
In racing language, the horse knocked his near-fore joint. For everyone else, it is safe to compare it to a strained ankle. Bandaging and ice have helped ensure there was no swelling.
"Because of the interest on behalf of the owner and the enormity of money changing hands [estimated £25m wagered on the race] in the betting industry, it was appropriate that people were kept informed and everyone was in the know," said Warren.
So how have the Queen's nerves been holding up in these tense hours before the rollercoaster mile-and-a-half ride round Epsom's undulating contours unfolds?
"Put it this way - any owner that has a runner in the Derby this week will follow their horse blow by blow," says Warren.
"They want to know what the ground is like, what the jockey is saying, and all the details."
Riding for the Queen can bring extra pressure, as the country's leading female rider Hayley Turner can testify.
"I've had a few rides for Her Majesty and had a winner for her, Tactician at Newbury, and she was there. It was amazing," Turner told me.
"I wasn't nervous about riding the horse, I was nervous about riding for her.
"I had to get everything right - left leg behind the right. Mam not ma'am.
"She is so interested in her horses. She was in the paddock beforehand and the governor [trainer Michael Bell] explained what I was going to do.
"I told her a bit about the horse and how he's been at home and we had our picture taken. It's on my wall at home.
"The race was the easy part. I do that every day. I was delighted coming back in, having ridden a winner for Her Majesty. She said well done. You can tell she just thoroughly enjoys it."
The big-race rider on Saturday is three-time champion jockey Ryan Moore, known for his panache in the saddle which he does not always care to translate into effusive interviews.
"Ryan is some rider. He is focused on his job and his job only. He's good enough not to worry about the press and he leaves them to it. Ryan is Ryan, like it or not," says Turner.
"You can have a giggle with him, he's not boring at all. If you ask him, he's always happy to give advice. He's just the best jockey - he's like Mary Poppins - he makes everything look so easy. It's just perfect."
Moore, 27, won his first Derby on Carlton House's stablemate Workforce in 2010, and his ability and style have drawn comparisons with the legendary Lester Piggott.
Barbados-born Stoute, 65, who trains in Newmarket, has won the big race five times including the 2010 running with Workforce and Shergar's record 10-length victory 30 years ago.
A formidable jockey, trainer and owner combination. So what would it mean for the Queen, who celebrated her 85th birthday in April, to finally reign at Epsom?
"If you've followed your sport for all those years it would mean a tremendous amount for any owner or breeder to win the race," says Warren.
"Her interest is so deep - she adores the involvement and the breeding side."
Should the Queen's horse pass the finishing post first in front of the packed Queen's Stand, where morning dress is mandatory for men and headwear for women on Derby Day, the hats will be hurled into the air.
All that stands in the way is 12 opponents - including rivals from France and Ireland - who will be determined not to send her victorious.
It has been a good year so far for Queen Elizabeth II, with plaudits for the Royal Wedding, a historic trip to Ireland and the visit of US president Barack Obama.
Becoming the first reigning monarch to own a Derby winner since Minoru succeeded for King Edward VII in 1909 would crown it all nicely.
Epsom Derby entries (form, horse, owner, trainer)
21-1 CARLTON HOUSE (USA) Sir Michael Stoute
0560-5 CASTLEMORRIS KING Michael Attwater
1-6 MARHABA MALYOON (Ire) David Simcock
16-51 MASKED MARVEL John Gosden
5(1)-2 MEMPHIS TENNESSEE (Ire) Aidan O'Brien (Ire)
114-13 NATIVE KHAN (Fra) Ed Dunlop
5-11 OCEAN WAR Mahmood Al Zarooni
0(1)120-3 PISCO SOUR (USA) Hughie Morrison
01-31 POUR MOI (Ire) Andre Fabre (Fra)
11-31 RECITAL (Fra) Aidan O'Brien (Ire)
212-2 SEVILLE (Ger) Aidan O'Brien (Ire)
21123-1 TREASURE BEACH Aidan O'Brien (Ire)
61-13 VADAMAR (Fra) Alain de Royer Dupre (Fra)