Epsom: Kieren Fallon banned from Derby ride by court
Last updated on .From the section Horse Racing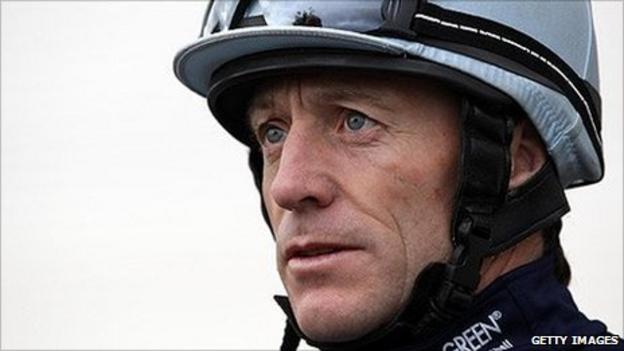 Jockey Kieren Fallon did not ride in Saturday's Epsom Derby after the owners of Native Khan obtained an injunction to prevent him from racing.
Owner Ibrahim Araci said three-time Derby winner Fallon had reneged on a deal to ride for him, but Fallon called it an "innocent misunderstanding".
On Friday a judge refused an injunction but on the morning of the race the appeal court reversed the ruling.
Fallon's ride on his preferred mount, Recital, went to Pat Smullen.
The 46-year-old Irishman told BBC Radio 5 Live: "It's like being knocked out in the first round of Wimbledon, but nobody has died. You've got to pick up the pieces."
Native Khan, meanwhile, was ridden by another three-time Derby winner in Johnny Murtagh, who won Friday's Oaks on 20-1 outsider Dancing Rain, beating Fallon into second place on 3-1 chance Wonder of Wonders.
The late drama added extra spice to the eagerly awaited Derby in which the Queen's horse Carlton House started as favourite after passing a fitness test but was beaten by the fast-finishing French horse Pour Moi.
In his ruling, Lord Justice Jackson said Fallon's status within the world of racing did not allow him special privileges.
"There is nothing special about the world of racing which entitles the major players to act in flagrant breach of contract," he said.
"The defendant has brought this present predicament on himself."
The judge added that he would "unhesitatingly refuse an injunction" if it would mean the Derby would not take place, because it is a "major national event".
But he said that while the ruling was unfortunate, it "doesn't materially retract from the event as a whole".
Mr Araci's solicitor Mehmet Ali Erdogan said his client was "thrilled" by the verdict.
"My client entered into a contract with Kieren Fallon, and Mr Fallon promised to do two things - to ride Native Khan, or if not asked to do so, not to ride a competing horse in a race where Native Khan is racing," he told the BBC News Channel.
"The court decided he promised these two things and he broke his promise. The court decided he should keep his promise."
He confirmed that there was a signed document agreeing the arrangement between Fallon and Mr Araci, but it had now been rendered meaningless.
"There is a written contract which Kieren Fallon signed for a year starting from last April, a contract to ride Native Khan whenever asked to do so for a period of one year," he added.
"As far as I know there has been no discussion (between the pair). It (Fallon's decision) came to our client as an utter shock - they had a fantastic relationship before he called and tried to cancel his commitment to our client.
"The contract effectively is not enforceable any more as mutual trust is not there."
Fallon's solicitor, Christopher Stewart-Moore, said: "Kieren is obviously disappointed and very sorry not to be riding in the Derby.
"He wishes the owner of Native Khan the very best of luck and hopes that Pat Smullen has a good ride on Recital too."
Native Khan's trainer, Ed Dunlop, would not be drawn on Fallon's actions but said he was very happy to have Murtagh as his replacement.
"I've stayed well out of it, it hasn't really been my decision, but a contract was signed in my office and therefore for the last three-and-a-half weeks I've presumed Kieren was riding my horse and was obviously surprised when he wasn't," Dunlop told BBC Radio 5 Live.
"The Aracis have got what they wanted and we're very happy to have Johnny Murtagh, particularly after seeing him ride so well on Friday [when winning the Oaks].
"My job now is to concentrate on the horse. It's not my job to say right or wrong things about Kieren in this one instance.
"He's ridden Breeders' Cup winners for me and an Oaks winner here for me on Ouija Board - we've had some wonderful days in the past.
"It's an unfortunate situation, that's the best way I can say it."
Fallon has enjoyed considerable success during his long career, with his three Derby victories accompanied by six champion jockey titles and wins in major races including the Prix de l'Arc and the 1,000 and 2,000 Guineas.
But he has also been a controversial figure. The 46-year-old was a defendant in a high-profile race-fixing case in 2007, but was cleared of all charges.
Then in 2008, he was served with a 18-month racing ban after failing a drugs test in France but has gradually rebuilt his career since returning to action.
Triple Derby-winning jockey Walter Swinburn, whose first victory in the race came on Shergar 30 years ago, told BBC Sport the Fallon case was a "one-off" and did not predict a series of legal battles with other riders in the future.
"It was very clear in my day you had a contract with the trainer when you started and that was to ride all the horses in the stable. If a horse didn't run in a race, you were open to taking outside rides and that was fine," he said.
"Later, you had a contract with an owner, with similar guidelines. I've never once heard of anything like this. This is just a one-off. We could see it coming.
"When you start trying to create five, 10 contracts or arrangements for yourself in the one year then that's really difficult."
Swinburn, now a trainer, said the legal battle would never have happened with nine-time Derby winner Lester Piggott.
"Lester would have done exactly this, the only difference being Lester wouldn't have signed a contract. That's why Lester would have got off at the last second," he said.
"Lester didn't want the contract. He wanted the freedom, and everyone wanted him."
Swinburn said the 2011 Derby, with the Queen's horse Carlton House as favourite, was set to be a great occasion regardless of Fallon's absence.
And he believes the market leader is likely to overcome a minor ankle strain suffered in the build-up to the race.
"It's less than ideal but the horse would have been race fit anyway before this hiccup so he wouldn't have lost anything in fitness," said Swinburn, who rode Shergar for Carlton House's trainer Sir Michael Stoute.
"He's in excellent hands and the only question mark today is whether he is good enough or not.
"I never went in search of Carlton House. My great belief in a Derby winner is that they find you. When I saw him at York for the first time in the flesh and the manner in which he won, he won like a true Derby horse."
Epsom Derby entries (form, horse, owner, trainer)
21-1 CARLTON HOUSE (USA) Sir Michael Stoute
0560-5 CASTLEMORRIS KING Michael Attwater
1-6 MARHABA MALYOON (Ire) David Simcock
16-51 MASKED MARVEL John Gosden
5(1)-2 MEMPHIS TENNESSEE (Ire) Aidan O'Brien (Ire)
114-13 NATIVE KHAN (Fra) Ed Dunlop
5-11 OCEAN WAR Mahmood Al Zarooni
0(1)120-3 PISCO SOUR (USA) Hughie Morrison
01-31 POUR MOI (Ire) Andre Fabre (Fra)
11-31 RECITAL (Fra) Aidan O'Brien (Ire)
212-2 SEVILLE (Ger) Aidan O'Brien (Ire)
21123-1 TREASURE BEACH Aidan O'Brien (Ire)
61-13 VADAMAR (Fra) Alain de Royer Dupre (Fra)