Epsom: Queen's Carlton House favourite for Derby
By Frank Keogh
BBC Sport at Epsom
Last updated on .From the section Horse Racing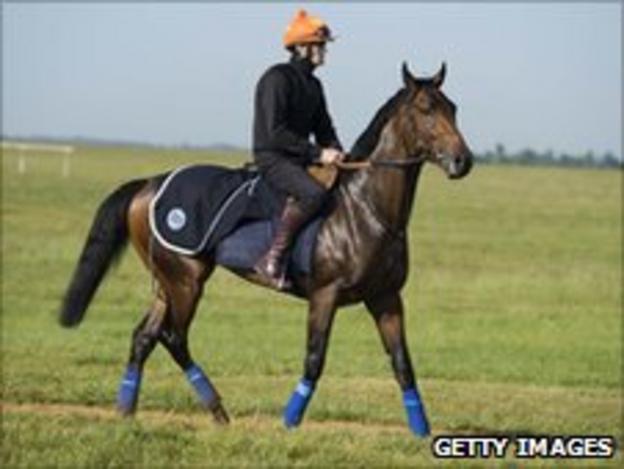 The Queen's horse Carlton House will start as favourite for Saturday's Epsom Derby after passing a fitness test.
John Warren, the Queen's racing manager, said the three-year-old had allayed any concerns about injury with his displays in training.
"I think now the emphasis has moved away from the issue and into the excitement of the event," he said.
But a court injuction means jockey Kieren Fallon will not race following a dispute with Native Khan's owners.
Irish jockey Pat Smullen has taken the ride on board Recital in Fallon's place.
For all the intrigue and drama over Fallon's forced withdrawal on the morning of the race, for many the focus will still fall on Carlton House.
The Sir Michael Stoute-trained colt, due to be ridden by Ryan Moore, is seeking to be the first Derby winner owned by a reigning monarch since Minoru won in 1909 for King Edward VII.
The Queen has had nine runners in the race but this will be her first since Church Parade finished fifth behind Shergar 30 years ago. She came closest to winning in 1953 when Aureole was second.
Carlton House, has been the long-time race favourite but doubts over his participation arose after he developed swelling in a leg.
But he has was declared in the field for the mile-and-a-half Classic and reacted well to cantering on Thursday and Friday.
Warren compared the injury Carlton House suffered to the ankle strain suffered by British tennis star Andy Murray at the French Open.
"While Andy pulled up when he rolled his ankle, the horse has never actually been lame. It's quite a good analogy," said Warren.
"However, the horse cannot put his leg up for rest like a human being, so is much more vulnerable."
Warren indicated the Queen had been closely monitoring news of Carlton House's fitness.
"Any owner that has a runner in the Derby this week will follow their horse blow by blow," he said.
Moore said he was trying to ignore the extra pressure of riding a horse attracting special media and public interest.
"I know it's a big story but for me it's just a horse race," he said.
"You always look forward to riding in the big races and I don't really treat this any differently.
"I've been lucky to ride for the Queen since I was 18, when I was with Richard Hannon, and now for Sir Michael Stoute.
"So I've met her a good few times and I'm just glad she has got a good horse.
"I speak to her occasionally about the horses. She adores everything about it, from the foals onward. She sees the horses regularly and loves the sport. She's very easy to deal with.
"But you just treat this horse in the same way as if it belonged to any other owner in the yard."
Stoute is the most successful current Derby trainer, with five victories, including the 2010 running with Workforce.
Warren said the stables had done as much as possible to keep the racing world informed of the latest news during an anxious week.
"We understand how big the betting side of it is and hopefully everyone is all the wiser about what is going on," he said.
"Obviously the Queen has been through this and the trainer has been through injuries just before a race as well, so it's not new territory, but it's territory that one would prefer to do without, to be honest.
"Owning racehorses and breeding racehorses is really what this is all about and Epsom is the pinnacle of all of that."
Epsom Derby entries (form, horse, owner, trainer)
21-1 CARLTON HOUSE (USA) Sir Michael Stoute
0560-5 CASTLEMORRIS KING Michael Attwater
1-6 MARHABA MALYOON (Ire) David Simcock
16-51 MASKED MARVEL John Gosden
5(1)-2 MEMPHIS TENNESSEE (Ire) Aidan O'Brien (Ire)
114-13 NATIVE KHAN (Fra) Ed Dunlop
5-11 OCEAN WAR Mahmood Al Zarooni
0(1)120-3 PISCO SOUR (USA) Hughie Morrison
01-31 POUR MOI (Ire) Andre Fabre (Fra)
11-31 RECITAL (Fra) Aidan O'Brien (Ire)
212-2 SEVILLE (Ger) Aidan O'Brien (Ire)
21123-1 TREASURE BEACH Aidan O'Brien (Ire)
61-13 VADAMAR (Fra) Alain de Royer Dupre (Fra)