Royal hopes for Epsom Derby riding on Carlton House

By Cornelius Lysaght
BBC horse racing correspondent
Last updated on .From the section Horse Racing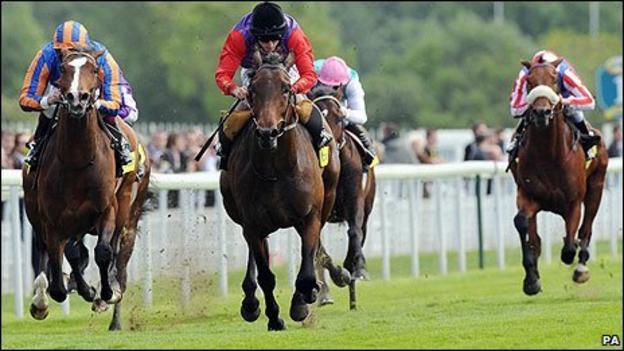 The Queen, says her horse racing adviser John Warren, is as excited as any owner at the prospect of having an Investec Derby contender with a serious chance.
And, after nine attempts - with a second place (Aureole, Coronation year, 1953) the best - she has every right to be.
Following a taking success in the Dante Stakes at York, Carlton House will line up as red-hot favourite for the world's most famous Flat racing prize on 4 June.
And the so-called 'Sport of Kings', which has so regularly found itself quivering defensively on a rather unmajestic back foot amid corruption and welfare claims, can hardly believe its luck.
With the Royals' stock at a modern-day high following the wedding of Prince William and Catherine Middleton and Her Majesty's historic visit to Ireland, British racing is in a position to 'push the share price' even higher.
And the vibes from Newmarket, where Carlton House is trained by Sir Michael Stoute, are encouraging.
"The Queen came to see him two weeks before the Dante," Warren told the traditional pre-Derby Breakfast With The Stars, "and there was a feeling that maybe he was not quite there yet.
"At the Dante, I was concerned that he was not the real McCoy physically, but he won that pleasingly.
"And then yesterday I saw him and thought 'Goodness, 10 days to go, and he's better again'.
"Like anyone with a Derby runner, Her Majesty is very excited about the race, looking at the Racing Post, and getting all the news, while trying to keep calm."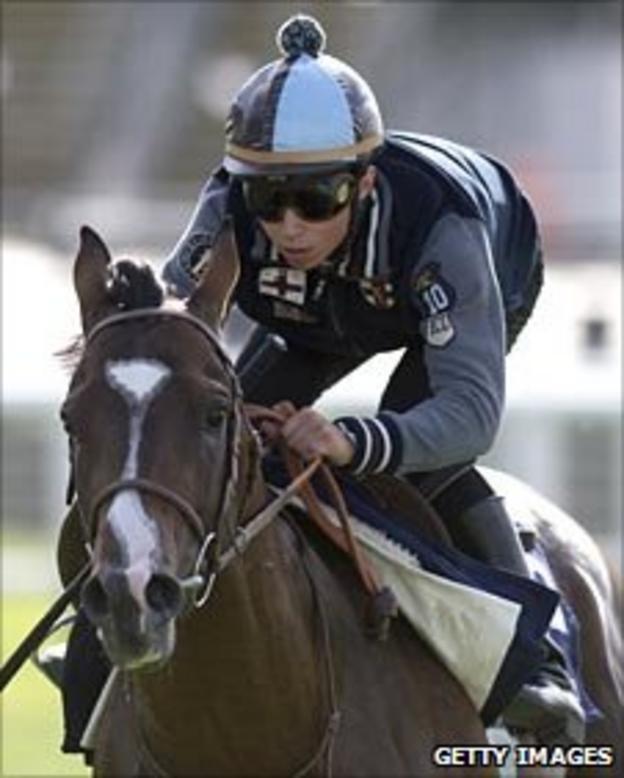 In contrast to the Queen's Derby record, Stoute hass won five times, most recently last year with Workforce.
Carlton House's principal threat is Pour Moi, confirmed as a definite runner by 22-time French champion trainer Andre Fabre, another high-profile racing figure never to have enjoyed Epsom Derby success.
After insisting the brilliant Prix Greffulhe winner was "the best chance I've ever had of winning the Derby", Fabre added (smiling): "I accept to be unpopular [if] beating Her Majesty's horse."
Pour Moi's participation puts paid to all talk of the Derby being a one-horse race, something which the Royal camp relishes.
"No one wants it to be a walkover," said Warren, "so Carlton House, if he wins, can be said to be the 'genuine McCoy', and not just a horse that happened to win a weak Derby."
Warren has played a major part in raising the fortunes of the Queen's racing interests which revolve around 30 horses in training and 20 brood mares at stud.
Most of her runners are 'home-bred' though Carlton House was a gift-horse from Sheikh Mohammed.
The main focus currently is clearly on Epsom, but, Warren, amongst the biggest players in the European bloodstock industry, is also looking further ahead.
He has begun collaborations with the breeding empires run by the Aga Khan and the Wildenstein family as well as Coolmore Stud because the plan is to keep on "building, building, building" the Queen's racing interests.
Pour Moi apart, Coolmore provides the main opposition, with Recital and Seville leading up to five hopefuls from County Tipperary.
Without a runner this year is Henry Cecil, winner of four Derbies, who reflects an increasingly typical view in the build-up to Epsom.
"The country and racing owe her [the Queen] so much for years of service," said Cecil. "I think it would be fitting and marvellous for her to win, and I wouldn't want anything else to beat her."
Racing, for one, hopes that Cecil, long amongst its most favoured sons, is as correct about this as he has been about so much else.