Five jockeys and two owners face 'serious' BHA charges
Last updated on .From the section Horse Racing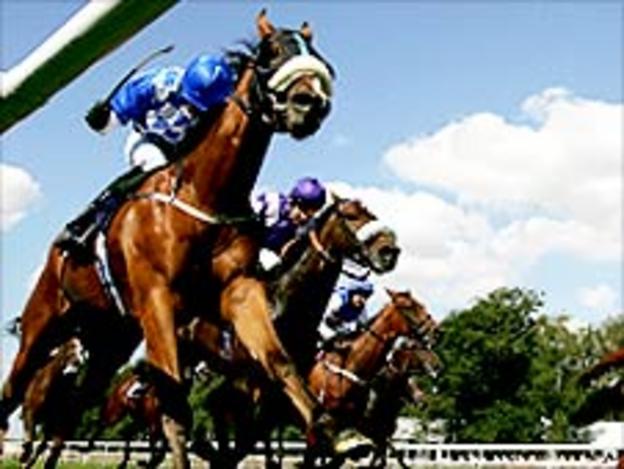 Five jockeys and two owners have been charged with "serious breaches" of the rules of racing.
The British Horseracing Authority said the allegations focus on horses being laid to lose on betting exchanges.
Jimmy Quinn, Paul Doe, Greg Fairley, Paul Fitzsimons and Kirsty Milczarek are accused of conspiring to commit a corrupt or fraudulent practice.
Owners Maurice Sines and James Crickmore are also similarly charged, as are six other men.
The charges relate to 10 races that took place between 17 January 2009 and 15 August 2009.
An independent disciplinary panel hearing has been set for 20 October and is scheduled to last 10 days.
The guideline penalty for any jockey found guilty of "deliberately not riding a horse to obtain the best possible placing for personal reward or knowing it has been laid to lose" is five to 25 years' disqualification.
All of the individuals except the jockeys are alternatively/additionally charged with another breach in that it is alleged "they caused the jockey in the race to act by communicating to him directly or indirectly, at his request and for material reward, gift, favour or benefit in kind, Inside Information in relation to the named horse".
Each of the jockeys is also charged with a different breach in that it is alleged "they communicated directly or indirectly to one or more betting exchange account holders, for material reward, gift, favour or benefit in kind, information relating to the prospects of the named horse".
This charge relates to the following jockeys in these specific races of the 10 under investigation:
Paul Doe - Races 4, 5, 6, 7 & 8
Greg Fairley - Races 5, 6, 8 & 9
Paul Fitzsimons - Race 3
Kirsty Milczarek - Race 10
Jimmy Quinn - Races 1 & 2
Each jockey is also charged with a further breach of the rules of racing in that it is alleged they intentionally failed to ensure that their horse was run on its merits as follows:
Paul Doe - Races 4 & 8
Greg Fairley - Races 5, 6 & 9
Paul Fitzsimons - Race 3
Kirsty Milczarek - Race 10
Jimmy Quinn - Race 1
In relation to races one and three only, Sines and Crickmore are also charged with a breach of another rule in that it is alleged they instructed others to place lay bets on their behalf and/or received the whole or any part of the proceeds of such bets when they were the owners of the named horse.
Sines is additionally charged with refusing to attend an interview with BHA investigators.
One of the five jockeys, Fitzsimons no longer rides but is now a licensed trainer.
Chris Brand, acting chief executive of the BHA, said: "Protecting the integrity of racing is a key priority for the Authority.
"The charges issued today are the result of a lengthy, detailed and complex investigation, following suspicious betting activity on more than one betting exchange and with traditional bookmakers.
"It is, of course, of utmost importance that those charged are given a fair hearing and the opportunity to defend themselves and we will therefore make no further comment on the details of this case at this stage."
Fitzsimons said he was "shocked" at the charges, but the Hungerford-based trainer said: "I'm happy to help with the investigations for as long as it takes.
"I went for an interview [with the BHA security department] 16 months ago and heard nothing back from them.
"I'm shocked and dismayed but I've got 100% backing from my owners, and I'm pretty confident my name will be cleared."
Fitzsimons will be represented by solicitor Andrew Chalk, who is also acting for Quinn.
Chalk said: "Jimmy is pulling his hair out and is particularly frustrated.
"He feels he has co-operated fully with the investigation, having answered all of the appropriate questions with honesty.
"He is dismayed at the charges, and is adamant he has done nothing wrong. He will be doing everything in his power to clear his name."
Former champion apprentice jockey Fairley says he "vehemently denies" any wrong doing, while Milczarek's representative, Christopher Stewart-Moore, said: "Kirsty is stunned by this development. She has been fully co-operative with the BHA investigations.
"She has provided the BHA with all her telephone records and there are no calls between her and any of the named layers.
"In short there is no evidence to support the BHA's charge for the very simple reason that she has done nothing wrong.
"As yet the BHA have provided none of the evidence in support of their charges against her but have nevertheless made a press release announcing the fact of the charge and given a hearing date for October of this year.
"Kirsty has decided to make this [statement] so as to reassure all the owners and trainers for whom she rides that she will continue to ride every horse she is employed to ride to win."
Fairley's legal representative, Ken Stenger, said the North Yorkshire-based jockey has "vehemently denied" the allegations.
"Greg has given the BHA his full co-operation during this inquiry and is deeply upset that he is now being charged with alleged breaches of the rules of racing," he added.