Jockeys in the wars: Could safety moves cut injuries?
Last updated on .From the section Horse Racing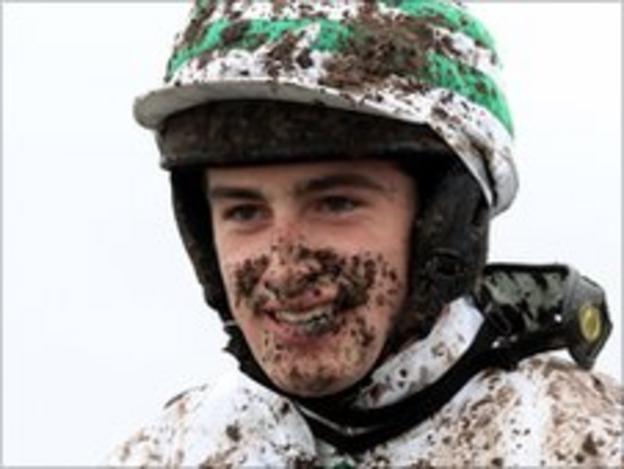 As two jockeys lie in hospital beds battling to recover from serious injuries, it has been revealed new safety measures to help protect riders are being investigated.
The dangers inherent in National Hunt racing have been put in sharp focus after two horses died in the Grand National on Saturday, one jockey was left fighting for his life after a fall at the meeting and another was badly hurt elsewhere.
Staff from the Injured Jockeys' Fund (IJF), which has been helping the families of the injured pair, were already in discussions with the British Horseracing Authority (BHA) about the possibility of adapting inflatable body protectors which are used by eventing riders.
"We are currently carrying out some research with the BHA to look at improving protection wear for jockeys," IJF chief executive Lisa Hancock told BBC Sport.
"We are looking at whether we can create a prototype for horse racing, like a life jacket that would blow up. Some three-day event riders wear a version of this and think it's brilliant.
"The research is for race riding as it would need to work in a slightly different way. Eventing is one rider and horse, whereas you have 40 runners in the Grand National."
Irish jockey Peter Toole suffered bleeding to his brain when he came down in a novices' chase in an earlier race at Aintree on Grand National day.
Four days later, amateur rider Richard Hawkins was taken unconscious to intensive care following a fall in a handicap hurdle race at Taunton. Both are seriously ill in hospital.
Meanwhile, Rodi Greene - who injured his neck in a fall at Lingfield last month - faces several weeks laid flat on his back as he waits for bones to knit together.
Statistics show jump jockeys hit the deck an average of one in every 16 rides.
Taken literally, that means 15-time champion jockey Tony McCoy has suffered about 1,000 falls in his career.
While his colleague Ruby Walsh says McCoy is "made of concrete", the prospect of being injured is not one on which the Northern Irishman, who has won more than 3,000 races in a record-breaking career, prefers to dwell.
"It's a dangerous sport. We are fully aware of that and all think it's not going to happen to us. If you didn't think like that, you wouldn't do it," McCoy told me.
"There's a fair chance you are going to get a bad one at some stage. In some races, it's all about luck. Some of my worst falls were when I was unseated.
"We are very lucky to have the Injured Jockeys' Fund. It gives financial support but also supports in lots of other ways.
"When Peter got the fall on Saturday, his parents happened to be at Aintree, which in some ways is a good thing.
"There has always been a member of the Injured Jockeys' Fund to support them and they are being looked after in every way.
"I suppose it does happen and it helps if there is someone experienced in dealing with something as serious as this."
After winning the Grand National in 2010, McCoy went on to be voted BBC Sports Personality of the Year and at the age of 36, is one of the elder statesman in the weighing room.
"Some of the younger lads would know him better but Peter is a very polite, mannerly young man who was doing extremely well," said McCoy.
Following Toole's fall, a Facebook group called Get Well Peter Toole was set up, with more than 3,000 people joining as racing rallied round to support one of their own.
One poster called Martin Allen wrote: "I hope when you're feeling better Peter, you get to see and read these messages of support.
"You won't know many of us and you certainly won't know me. But what you will know is that there are lots of ordinary folk, like me, sitting at home or at work anticipating every positive bulletin that is released and desperately wanting to see you recover fully and enjoy life. You and your fellow jockeys give so much for our entertainment."
Since Hawkins was hurt, hundreds of users of the social networking site Twitter have been sending best wishes and adapting their profiles with twibbons (Twitter ribbon images) supporting both riders.
"It's been overwhelming really, all the messages and cards. Those kind of things really do help," said Hancock.
Sunny, dry conditions mean the ground for racing has been quite fast in recent days, but she believes there is no connection between the falls.
"At the moment there's nothing to link the falls and it appears to be a really bad run of luck," added Hancock.
"I've seen injuries on the racetrack, but to have three severe injuries at the same is very unusual. The falls are totally indiscriminate. Let's just hope they recover safely.
"These jockeys are really fighting to get better. They are so dedicated to what they do and their pain threshold is phenomenal."
The IJF was set up in 1964 to provide financial, medical and moral support to jockeys after Paddy Farrell was paralysed from the waist down with a broken back after his mount crashed at the Chair. Earlier in the same year, his colleague Tim Brookshaw suffered similar injuries from a fall in a hurdles race.
Safety at the track is in a different league nowadays and Hancock points to improvements which have been made at Aintree for both horse and rider.
"So many things have been done over the last 10 to 12 years. The whole medical team at Aintree is top class - you couldn't have better experts," said the former Newmarket racecourse managing director.
"I have quite a lot of experience of being involved in racing, and racing yards. Horses are bred for jumping and they are extremely well looked after.
"What happened on Saturday was very, very fortunate, no-one likes to see it."