Grand National: Evan Williams praise for State of Play
Last updated on .From the section Horse Racing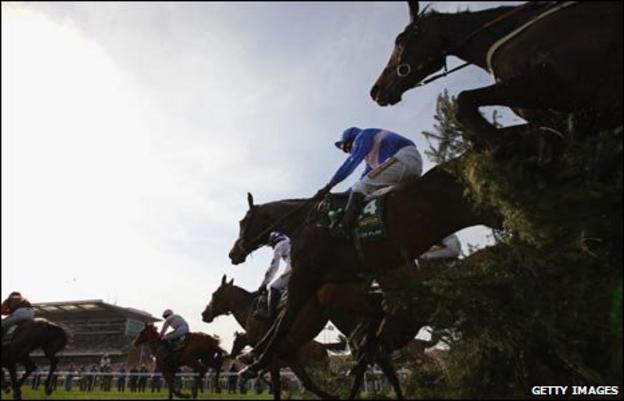 Evan Williams has hailed State of Play a racing "legend" as the 11-year-old finished in the Grand National's top four for the third successive season.
The Welsh trainer praised his "special" gelding after the 28-1 shot followed up fourth place in 2009 and third in 2010 with another National place at Aintree.
But Williams is unsure whether State of Play will return for another chance at the world's most famous steeplechase.
Whatever the future, Williams insisted: "He is a legend of the sport."
The 2006 Hennessy Gold Cup winner finished strongly to come fourth at the 2011 Aintree showpiece won by 14-1 chance Ballabriggs ridden by Jason Maguire.
State of Play, with Paul Moloney on board, finished 16 lengths behind Ballabriggs in the £950,000 four-and-a-half mile marathon.
"He's an incredible horse," acknowledged Moloney.
"He's just a little bit slower this year because time is catching up with him. He couldn't lay up with the pace and the ground was probably a little slower than ideal, but he's a fabulous horse."
And emotional Vale of Glamorgan handler Williams paid tribute to the crown jewel of his Llancarfan yard after a State of Play's third consecutive place finish at the famous Grand National.
"He loves this place," Williams told BBC Sport.
"And he goes down in history as one of those horses that comes back to Aintree year after year and done it, there are only a handful that have done what he has done.
"To be associated with a horse that has done it and done this much for my career and our yard, I will never have another horse that has done what he has done for me.
"He is a very, very sweet horse and will always have a very special place in my heart.
"It is a difficult task to be placed in one National but to have done it three years on the bounce is an incredible endorsement of how tough and genuine the horse is.
"He had a great start and was first crossing the Melling Road and was shuffled back down the field but he a storming finish as sheer guts and determination of that kept the little horse going."
State of Play did not race between Grand Nationals as Williams felt the small gelding needed special preparation for the gruelling fences around the Aintree National course.
Williams admitted before the race that State of Play could not win the 2011 Grand National but the Welsh-trained horse certainly finished strongly and was pipped to third by two lengths by last year's winner Don't Push It.
Now Williams will consider whether he will bring State of Play back to Aintree for another shot at the Grand National in 2012.
"Age is creeping up on him," the trainer acknowledged.
"The younger horses are a little bit sharper.
"Last year we thought very soon after the National that we'd come back but it is not something I would say I am going to do right now.
"We'll take him home and have a look at him because he has done it three years on the bounce and it is tough.
"Him coming back next year is something I would have to give plenty of thought to. It would silly of me to say what I will do next year now."
But even if 2011 is State of Play's final Grand National, Williams has "no regrets" that he did not win the ultimate prize.