Grand National meeting: The nervous national
By Frank Keogh
BBC Sport at Aintree
Last updated on .From the section Horse Racing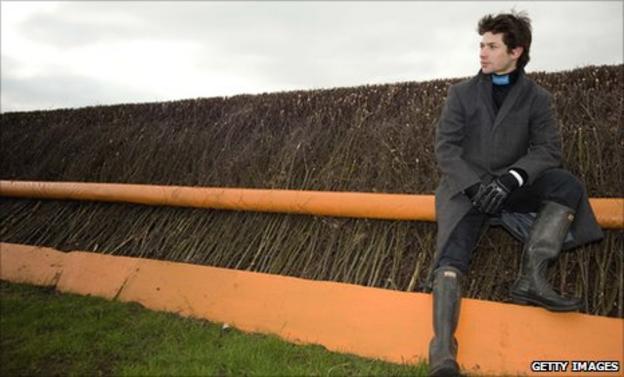 Clip clop, clip clop, Tick, tock, tick tock. The clock is ticking down to the world's most famous horse race, and the anticipation is building.
Thirty daunting fences, including iconic obstacles such as Becher's Brook and The Chair, must be jumped over four-and-half-miles before the 2011 winner of the Grand National is known.
And for those with runners in the race, the emotions range from nervous tension to giddy excitement.
Amateur English jockey Sam Waley-Cohen, the grandson of a baronet, and larger-than-life Dubliner Graham Regan may not be natural bedfellows but their attitudes demonstrate much of what this race means.
"For me, the Grand National is racing. It's a true-fought fight which boils down to the horse with the courage and ability to win the greatest challenge there is," said Waley-Cohen, who rides leading contender Oscar Time.
"It is one of the few races when you feel like you have won just by lining up."
Regan said he feels "blessed" to have another chance with the horse he owns, Niche Market, who was pulled up with an injury last year.
"We don't know when, or if, we will be down this road again and we are here to enjoy every minute of it," said the Somerset-based businessman, who will attend Aintree with his wife Tracy and racing-mad daughters Millie, 11, and Lucy, seven.
Waley-Cohen runs a dental business as his day job but has a professional attitude when he lines up against top jockeys such as Tony McCoy and Ruby Walsh.
And he drew up a wishlist of prerequisites when his father Robert wanted to buy a horse for the Grand National that his son could ride.
"When you look at the previous favourites and winners, they have shown some quite specific traits," Sam told me.
"They can win over a certain distance and have shown speed, particularly as juveniles, which shows they can deal with the pace. They are good jumpers and are consistent with the heart for a battle.
"If they can win or be placed in one of the other Nationals or the four-miler at Cheltenham, it shows they have the stamina for the race and the mentality for the occasion."
Oscar Time was bought nine months ago after he finished runner-up in the Irish Grand National to Bluesea Cracker.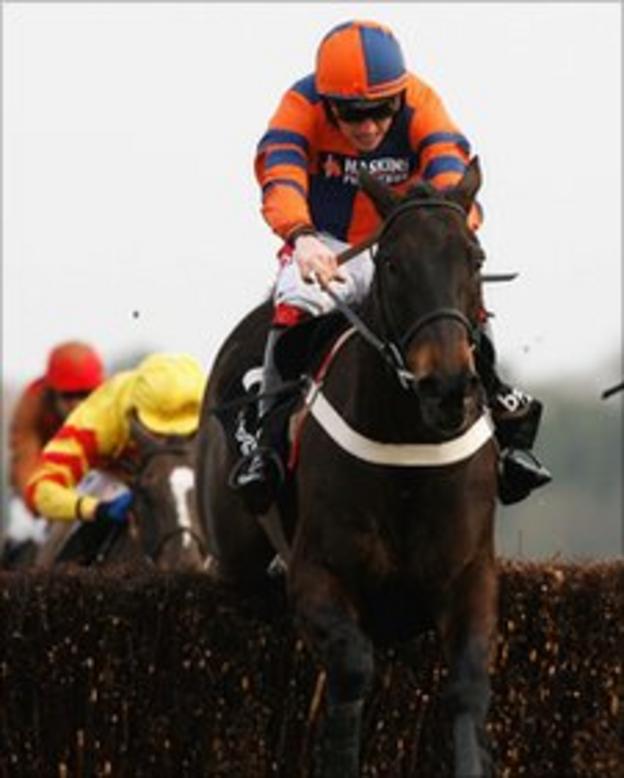 The 10-year-old's ownership is shared between Robert, together with Sir Martin Broughton and the former Liverpool FC chairman's brother Steve.
He is trained in Ireland by Martin Lynch, an old associate of the Waley-Cohens, who used to ride out their Aintree horse Wont Be Gone Long in the 1990s and knew Sam as a child.
"I always used to have a bet on Auntie Dot in the Grand National. He used to run in red with white spots and I had a hat like that. And funnily enough, Martin used to ride him," said Sam.
Sam's record over the National fences in other races as Aintree is one of which any full-time rider would be proud - he has won three times, been second once and finished third. He was also fifth in the big race on Liberthine.
"One of the big advantages is there is the Foxhunters Chase over the National fences for amateur riders only," he said.
"There's only one National a year, and I have more experience over these fences than a lot of professionals, so it probably levels the playing field a bit.
"Some jockeys like to tell a horse what to do. For me, it is about having a partnership."
Asked to nominate a horse he fears most in the race, he nominates Niche Market.
His owner Regan is an imposing but good-natured character who is not likely to be sitting on a horse any time soon.
But he has a passion for the race and faith in his animal, who he refers to as 'The Niche'.
"I think he ticks a lot of the boxes," he said of the 2009 Irish National winner who won then under Harry Skelton - who is on board again on Saturday.
"The National is a hard race, the toughest race in the world. The immediate build-up takes 45 minutes and you need a horse that can be as chilled as anything in that environment."
Regan confessed that nerves got the better of him before Niche Market ran last year, when the animal appeared to be travelling well before he was struck into by another horse and suffered a leg injury.
"It's nerve-wracking, terrifying, because of the size of the fences," he said.
"When they were putting the saddle on him, I was sick in the box in the corner, I was so nervous."
Those nerves will be back again at 1615 BST on Saturday when a collection of 40 jockeys, trainers and owners will be hoping their horse come safely home. And one will be the winner of the Grand National.