Leah Wilkinson set to be Wales' most capped sportsperson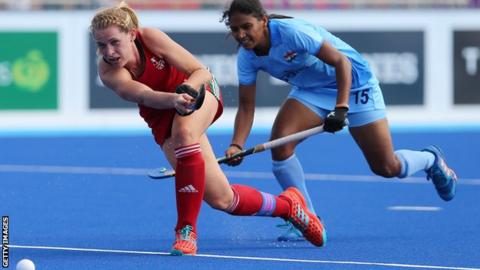 Leah Wilkinson is set to become Wales' most capped sportsperson this weekend.
Wilkinson needs two more caps to break Paul Edwards' record of 157 appearances for Wales, with Edwards' achievement also coming in the sport of hockey.
Wales' most capped rugby player is Gethin Jenkins who reached 129 caps, while Jess Fishlock has represented the Wales women's football side 116 times.
Wilkinson is in line to break the record on Saturday in match two of a three-game series against France.
"I'm really proud to be honest. It's an amazing achievement. To put on the Welsh vest any time you play is really special but to do it 158 times - I'm really proud," said Wilkinson, who made her Wales debut in 2004.
"It's odd really because it doesn't feel like it's been quite so long. It's been 15 years now, but every time I've put on the shirt it's really special. Tomorrow and the next day [in the matches against France] are important games for us, so it's going to make it more special. I can't wait really.
"When you step on the field it's always about the result and how you get on. But I think maybe [I'll give myself] a little pat on the back because I'm incredibly proud. It's a big milestone. I haven't actually sat back and really reflected and thought about it.
"I remember vividly my first cap and I can remember so many of the games I've played. Suddenly I'm 15 years on and 156, 157, 158 caps later. I've had some amazing experiences, I've played with some amazing players and been to some amazing places."
"I keep getting asked how much longer I'm going to play for. It's difficult in a sport like hockey because it's so physically demanding to be like 'I want to play for this many more years or this many caps'. I'm just going to play until I still enjoy it and can still get out of bed in the morning!"