Hockey World Cup: Ireland aiming to secure crossover spot with England win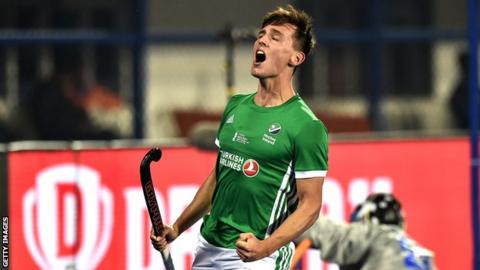 Ireland's players will not allow themselves be distracted by the various permutations ahead of their World Cup pool match against England on Friday.
A draw would be enough for the Irish to secure a place in the crossover stage behind Pool B winners Australia.
A win could also improve the team's seeding for next year's Olympic qualifying tournament in Belgium.
"We're concentrating on winning the game, that's the most important thing," said midfielder Chris Cargo.
"We have to concentrate on tomorrow [Friday]. There's no point in worrying about any other games in this tournament right now.
"Olympic qualification is a long time in the future but this is a major tournament - it's the first time we've played in it in 28 years - so there's no point in worrying about Tokyo right now we have to worry about the World Cup.
"We want to go out there and finish as high as we can. It was our goal before we came here to make the quarter-finals and that's still our main focus."
England and Ireland are level on points after two rounds of matches in Pool B but the Irish have a superior goal difference following their narrow opening-game loss to Australia, with both teams drawing against group minnows China.
England are bottom of the pool but could still reach the crossover stage with a draw, depending on the outcome of the other pool match on Friday between Australia and China.
The four pool winners advance directly to the quarter-finals but the runners-up and third-place finishers in each pool will contest the crossover round - effectively the last 12 - where the remaining four quarter-final places are at stake.
As well as County Antrim brothers Paul and Mark Gleghorne playing for opposing sides on Friday, the two teams will be very familiar with each other ahead of the match in Bhubaneswar.
Both teams have had to adjust to new coaches in the build up to the World Cup with Danny Kerry taking charge of Great Britain and England in August while Alexander Cox succeeded Craig Fulton as Ireland head coach during the summer.
It will also be the third meeting between the teams in recent weeks, with Ireland narrowly winning both of their encounters during a recent World Cup warm-up competition in Spain.
"We played England twice in the build up to this tournament. We know them pretty well, they know us pretty well," added Cargo.
"We've played each other in a few big matches over the last couple of years whether it's at European Championships or Olympic qualifiers.
"So we know what they're like, they've obviously got a new coach this year but we're pretty confident that if we play our game we can come out on top."
The match in Bhubaneswar will get under way at 13:30 GMT.