Champions Trophy: Great Britain draw 2-2 with China in opening game
Last updated on .From the section Hockey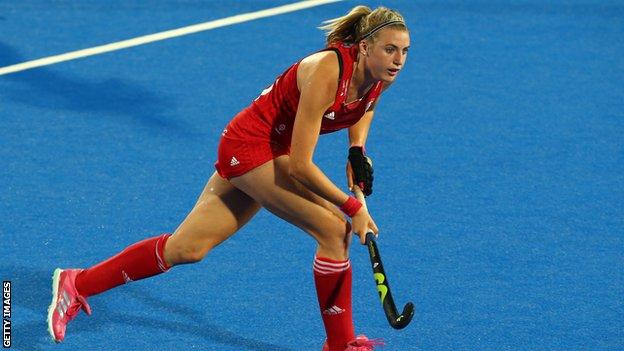 Great Britain twice came from behind to draw 2-2 with hosts China in their Champions Trophy opener.
Xu Wenyu scored from close range to give China the lead in Changzhou before Hannah Martin drew GB level with seven seconds remaining in the first quarter.
China regained the lead in the second quarter when Peng Yang took advantage of a rebound.
But Lily Owsley quickly equalised again for the Olympic champions with a powerful shot high into the net.
"It was a tough match for us today, the first matches in tournaments always are, especially against the home team," said GB interim head coach David Ralph.
"We are really pleased with several areas of our performance and know that we have to make improvements in other areas.
"In this tournament we get the opportunity to perform better pretty quickly as we face a strong Australia side tomorrow."
The 2018 edition of the Champions Trophy will be its last, with the tournament set to be replaced by the FIH Pro League in 2019.
It is the first tournament the squad have played as Great Britain since winning Olympic gold at Rio 2016.
Their next match is against Australia at 06:00 GMT on Sunday.
Australia beat Argentina 2-1 on Saturday while the Netherlands sealed a 3-1 victory over Japan.