Hockey's Champions Trophy: Can Great Britain's 'golden girls' go again?
By Emily Croydon
BBC Sport
Last updated on .From the section Hockey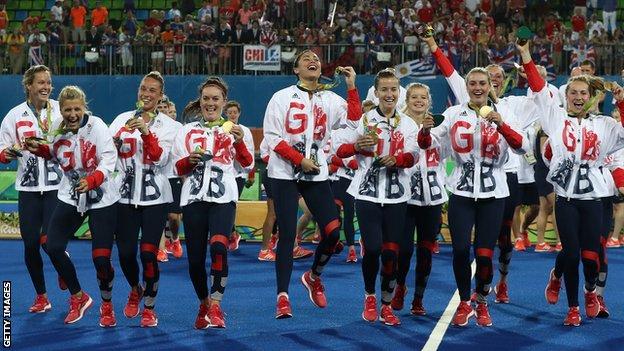 "I'm as motivated as I've ever been since I first put on a GB shirt."
Olympic gold medallist Giselle Ansley is in defiant mood as she prepares for Great Britain's Champions Trophy campaign in China.
The last time the team played as GB, they won Olympic gold. More than two years on, circumstances are far from perfect - they are without a permanent head coach, and their captain and first-choice goalkeeper are both absent.
Most of the players are also recovering from England's quarter-final exit from their home World Cup in London, and their motivation has been questioned.
So should the team be concerned? And what are the challenges that lie ahead for the 'golden girls'?
Finding the motivation to 'go hard again'
After leaving his post as head coach of the women's team to take charge of the men's side earlier this year, Danny Kerry told the BBC the Olympic champions have "got to find that motivation to go hard again".
The women's team - as England or Great Britain - have won at least one major international medal in each of the past 10 years, but bronze at the Commonwealth Games and defeat by the Netherlands in the World Cup quarter-final were disappointments.
Hollie Pearne-Webb, who will captain the side in the absence of Alex Danson because of concussion, says she has not "struggled" for motivation.
"The four years leading up to the Olympics were not smooth - it was a rollercoaster of a journey and we didn't perform well at the World Cup four years ago," she said.
"I absolutely know what I want to do and what I want to achieve and I'm confident all the other Rio girls are exactly the same."
Ansley added: "Things get said, and whether they're meant in the way that they're said who knows, but if we get caught up in things like that it would be detrimental to us and our performances.
"I'm hoping we can go and enjoy China and keep progressing as a squad together."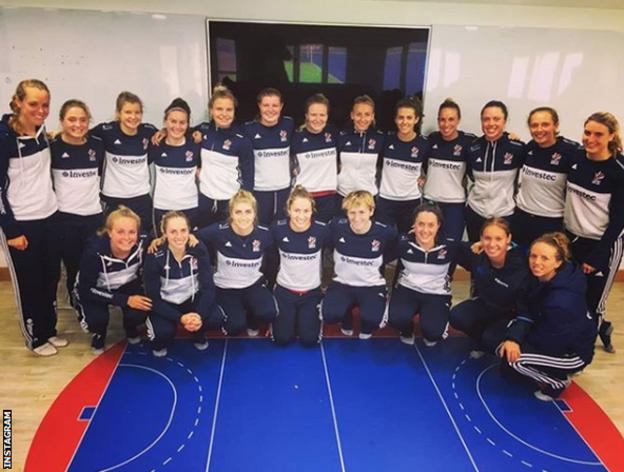 Coach Ralph given 'wonderful opportunity'
Three months on from Kerry's departure, the recruitment process to find his successor is ongoing.
David Ralph, who joined the coaching team in 2016, will take charge of the team in China.
"As we see it, 'Ralphy' is our head coach and that's it," said Pearne-Webb, scorer of the winning penalty in the shootout in Rio.
"He knows the group really well - he knows what we're good at and he knows the areas we need to work on so it's great."
With five matches against high-calibre competition, including the Netherlands, Ralph has the opportunity to put his stamp on the job.
"Working with an exceptional group of athletes like this, it's a wonderful opportunity," he said. "Any ambitious coach should be interested in this role.
"Danny was obviously in for a long time and had a certain way of playing but we believe we've got some skills we can utilise in different ways.
"We're allowing the girls to express some of their more attacking skills."
Pearne-Webb 'honoured' to be stand-in captain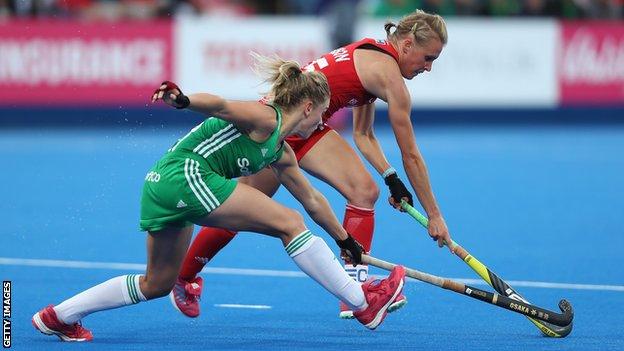 Danson was appointed captain of England and GB following Kate Richardson-Walsh's retirement after the Olympics.
But she will miss the Champions Trophy after suffering a concussion when she hit her head on a concrete chair while on holiday.
Pearne-Webb said: "With Alex unfortunately not able to be around, being captain is something I didn't expect but a huge honour.
"I have spoken to Alex a little bit, although communication is limited because of her rest and recovery. I'm going to just be myself and not try and be someone I'm not."
The goalkeeper conundrum
Maddie Hinch was the star of the Olympic final, saving four Dutch penalties in the shootout.
But she will not feature in the Champions Trophy after announcing in September she is taking a break from international hockey.
She wants to return for the Tokyo 2020 Olympics, but her absence means Amy Tennant and Sabbie Heesh get the chance to step up.
"It's a pretty pivotal moment in both of our careers," said Tennant, who was reserve goalkeeper for the World Cup and will make her GB debut in China.
"I've sat for a while watching Maddie. I've soaked it all up and now I'm ready to take on that number one slot.
"If you'd have asked me two years ago if I'd be getting a chance to play number one in this cycle I'd have said probably not, so hopefully I can grasp that opportunity."
Heesh was back-up to Hinch when England won European gold in 2015, but missed out on selection for Rio and suffered an ACL injury in March 2017 from which she has only recently returned.
"The Champions Trophy is a good opportunity for me and Amy to show the world what we can do, because we haven't had the exposure that Maddie had," she said.
"It's a challenge to get in front of Maddie but it pushes us on.
"I'd like my performances and my hockey to do the talking."
GB start their Champions Trophy campaign against hosts China on Saturday, with the final placings decided on 25 November.