Maddie Hinch: Great Britain goalkeeper to take break from international hockey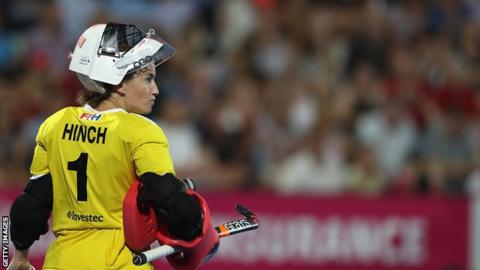 Britain's Olympic gold-medal winning goalkeeper Maddie Hinch is to take a break from international hockey.
Hinch, 29, saved four penalties in a shootout as Britain beat the Netherlands to win gold at Rio 2016.
She has played 133 times for England and Britain since making her international debut in 2008, aged 19.
Hinch said she was "pressing the pause button" after "an intensive few years" but added: "I still have the goal of going to Tokyo 2020 if selected."
In addition to her Olympic title, Hinch won European Championships gold with England in 2015 and Commonwealth bronze with Britain in April.
She played for host nation England as they reached the World Cup quarter-finals in August, losing 2-0 to the Netherlands.
Hinch said she planned to focus on playing for Stichtsche, her club side in the Netherlands, and "return in the best possible position for my team-mates, the programme and my country".
She added: "Hockey is in an amazing place in this country, as highlighted by this summer's World Cup, and it has been such a whirlwind since gold in Rio. I will of course be following the team's results closely and it will be very unusual for me watching from afar."
Great Britain Hockey's performance director Ed Barney said they "fully respect Maddie's position", adding: "We will be in regular dialogue with her in the coming months."