Shirley McCay: Ireland record holder tempted by Olympic qualification bid
Last updated on .From the section Hockey
Ireland's most-capped sportswoman may shelve her retirement plans in the wake of her team's Hockey World Cup success.
Shirley McCay, 30, won her 273rd cap in Sunday's 6-0 World Cup final defeat by top seeds the Netherlands in London.
McCay had signalled her intent to retire but may now be tempted to stay on to help Ireland qualify for the 2020 Olympic Games.
"I suppose no-one could ever have imagined that the tournament would have gone this way," she said.
"I had mentioned that this might be my last, but I want to take a bit of time to go away and reflect on what we've done."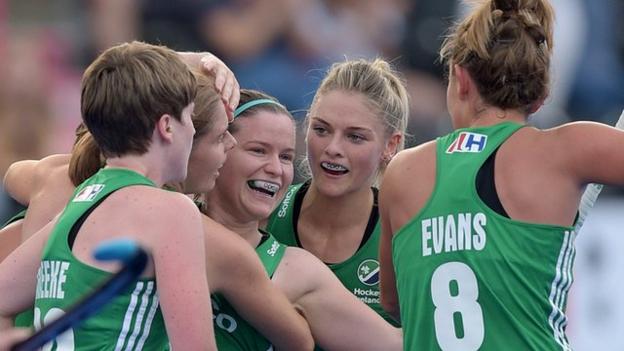 The Pegasus player has suffered more disappointment than any other Irish hockey player having been involved in three failed attempts to qualify for the Olympics.
"I've been involved in three Olympic qualification campaigns and I've had three heartaches. I had to go away and think whether I had another one in me or not."
When the dust settles on Ireland's memorable World Cup campaign, coach Graham Shaw is expected to try to persuade McCay to stay with the squad.
Her experience would be invaluable amongst a group well poised to mount a strong qualification campaign for Tokyo 2020.
"It is not too far away, but this has been very much about the team and I don't want to take away from that," she told BBC Radio Ulster.
"If I do go, I will be leaving them in a good place, but we will see.
"Undoubtedly the last six caps have been the best of my life, so I saved the best for last.
"We are on cloud nine, the welcome home yesterday [Monday] was phenomenal. The bubble burst to a certain extent when we came home, but the support has been fantastic."