Fit-again Megan Frazer named in Ireland squad for World Cup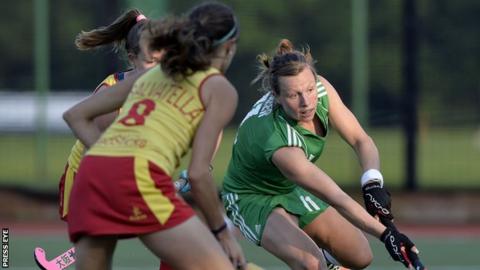 Megan Frazer has been named in Ireland's 18-strong squad for the World Cup despite being out of action for 20 months with a serious knee injury.
Frazer was initially expected to be ruled out for six to nine months but has suffered a number of setbacks.
Her latest operation saw scar tissue removed and she was unable to play in last week's 3 Nations series against Germany and Canada.
Ulster's Katie Mullan captains the squad, one of six Ulster players named.
Frazer, Ayeisha McFerran, Lizzie Colvin, Shirley McCay and Zoe Wilson are the other Ulsterwomen in the squad that will travel to the tournament in London.
Ireland face USA, India and England in Pool stages of the World Cup, which commences on 21 July.
Ireland squad for World Cup: Ayeisha McFerran (Louisville), Grace O Flanagan (Railway), Shirley McCay (Pegasus), Yvonne O Byrne (Cork Harlequins), Hannah Mathews (Loreto), Lena Tice (UCD), Zoe Wilson (Belfast Harlequins), Gillian Pinder (Pembroke), Lizzie Colvin (Belfast Harlequins),Katie Mullan (UCD), Nicci Daly (Loreto), Ali Meeke (Loreto), Roisin Upton (Cork Harlequins), Megan Frazer (Manheim), Chloe Watkins (Bloemendaal), Anna O Flanagan (Bloemendaal), Nicola Evans (UHC), Deirdre Duke (UCD).