Hockey Open Series more important than Commonwealths - Wales coach Zak Jones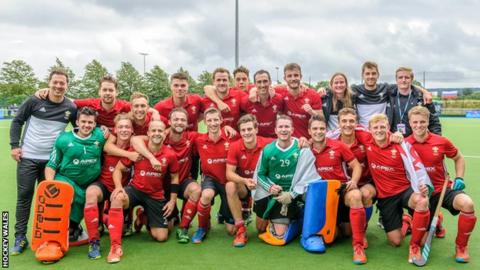 Wales head coach Zak Jones says the new Open Series will have more long-term significance than last April's ninth-place Commonwealth Games finish.
The five team round-robin tournament takes place in Zagreb, Croatia from 25-30 June.
The top two go through to the next round of the Open Series in 2019.
"While the Commonwealths have all the kudos and everything that goes with it, we don't get any ranking points for it," Jones told BBC Sport Wales.
"They dictate long term whether we go to [major] tournaments.
"In terms of the overall picture, this Open Series tournament is far more important [than the Commonwealths]."
The Open Series replaces the World League. Wales finished fourth in the second round of the 2017 World League - helping them climb eight places to 24th in the world.
While Wales are improving, Jones says their first Open Series opponents - Austria, Slovakia, Switzerland and hosts Croatia - are all getting stronger too.
"We know we're one of the teams up there to be shot at," he said.
"Hockey's getting bigger around the world and all the teams are improving.
"The target is to ensure we get to the next round and try to win the tournament, but we know it's not going to be easy."
Wales' opening game is against Slovakia at 16:30 BST on Monday, 25 June.
Goalkeeper David Kettle - who recently spoke out about his "relentless" battle with depression - will win a record 103rd cap for Wales.
It will also be a first major tournament appearance for defender Eddy Evans and 17-year-old forward Rhys Bradshaw.
Wales fixtures:
Wales v Slovakia (Mon, 25 June; 16:30 BST)
Wales v Austria (Tue, 26 June; 18:30 BST)
Wales v Switzerland (Thu, 28 June; 18:30 BST)
Wales v Croatia (Sat, 30 June; 18:30 BST)
Wales squad:
GK David Kettle (Teddington), James Fortnam (Cardiff & Met); DEF Gareth Furlong (Surbiton), Dan Kyriakides (Reading), Hywel Jones (University of Birmingham), Ioan Wall (Cardiff & Met), Eddy Evans (Cardiff & Met); SC Jacob Draper (Cardiff & Met), Lewis Prosser (capt, Surbiton), Luke Hawker (capt, Cardiff & Met); MF Rupert Shipperley (Hampstead & Westminster), Alf Dinnie (Cardiff & Met); MF/FWD Dale Hutchinson (Reading), Owain Dolan-Gray (Reading), Joe Naughalty (Brighton & Hove); FWD Ben Francis (Reading), James Carson (Reading), Rhys Bradshaw (Cardiff & Met)