Irish Hockey League: Banbridge win but miss out on play-offs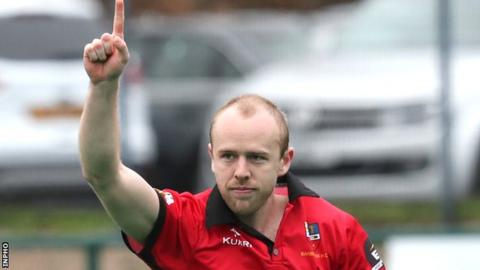 Banbridge have failed to qualify for the IHL play-offs despite beating Glenanne 3-2 in Saturday's final round of regulation season matches.
Pembroke earned the last available spot after a 4-3 win over Cork C of I.
Lisnagarvey thumped Railway Union 7-0 to send the Dubliners down and keep Cookstown, who lost 4-1 to Three Rock, in the relegation play-off place.
In the women's competition Pegasus beat Ards 5-1 but Belfast Harlequins lost 1-0 to Pembroke Wanderers.
There were also victories for UCD, who condemned Monkstown to relegation with a 5-1 win and Loreto, who defeated Trinity 6-0 while Cork Harlequins beat Railway Union 2-0.
The final play-off spot in the women's competition will be decided on Sunday when Loreto are at home to Pegasus, needing a win to progress at Railway's expense.
Pegasus face Harlequins
UCD will face either Railway or Loreto in the play-off semi-finals with Pegasus taking on Cork Harlequins in the other game.
In the men's game in Dublin, Banbridge came from behind to lead 2-1 with goals from Josh Moffett and Eugene Magee.
Shannon Boucher made it 2-2 in the final quarter before Moffett got a spectacular winner in the last minute.
Daniel Nelson scored a hat-trick in Lisnagarvey's home win over Railway, with the other goals coming from his brother Matthew and Andy Williamson, who got two each.
Annadale were leading Monkstown 3-2 in the last quarter at Strathearn after goals from Callum Robson, Peter Caruth and Connor Roberts before Steven Cole's late equaliser.
Andrew Barbour scored Cookstown's consolation goal in the defeat to Three Rock at Grange Road.
Pembroke will meet Glenanne in the play-off semi-finals with Lisnagarvey facing Three Rock Rovers in the other tie in Dublin next weekend.
Bangor victory
At the qualifying tournament for next season's IHL in Cork, Bangor defeated Bandon 4-3 with a last minute Ryan Burgess goal.
But Instonians lost 5-1 in their semi-final against Dublin YMCA with William Robinson scoring the Belfast side's consolation.
The winner of Sunday's final will replace Railway Union in next season's league with the runners up taking on Cookstown in a promotion-relegation play-off.
In the women's game at Upper Malone, Pegasus were too strong for Ards and never looked back after Taite Doherty scored twice in the opening quarter.
Alex Speers added two more goals in the second half when Michelle Harvey also scored before Francesca Brown's late reply.
At Deramore, Belfast Harlequins had plenty of chances but were unable to convert after Ashling Naughton's early goal for Pembroke.
In the women's round robin qualifier for next season's IHL, Lurgan began with 1-1 draws against UCC and Old Alex.
The Ulster champions were ahead in both matches after goals from Lauren Wright and Jo-Ann Wilson respectively, only to be denied by late equalisers.