Irish Hockey League: Ulster success in opening fixtures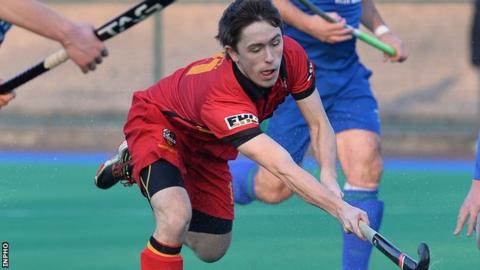 It was an impressive start to the Irish Hockey League season by Ulster teams on Saturday.
Banbridge and Lisnagarvey both recorded wins although the newly promoted duo of Annadale and Cookstown lost.
Goals from Jamie Wright, Luke Witherow, Alex Tinney and Dane Ward gave Banbridge a comfortable 4-0 victory over Railway Union in Dublin.
In the women's IHL the three Ulster sides - Belfast Harlequins, Ards and Pegasus - all began with wins.
However, defending champions UCD suffered a shock defeat at the hands of Cork Harlequins.
Banbridge easily defeated Railway Union despite missing internationals Eugene Magee and Johnny McKee, who are both still recovering from injuries sustained while playing for Ireland in World League 3 in July.
Lisnagarvey are looking to bounce back after missing out on major honours last season and began their campaign with a 4-2 home win over Monkstown.
Goals galore
It rained goals in the first quarter with Matthew Nelson and James Corry scoring for the home side but cancelled out by strikes from Karl Lynch and Andy Ward.
Two quick third quarter goals from James Lorimer and Andy WIlliamson were enough for Garvey to claim the points.
A goal from player-coach Peter Caruth just before half-time saw Annadale trail Three Rock Rovers 2-1 after a highly competitive first half but the IHL Play-off champions eased away after the interval to win 7-1 with Richard Pautz netting four times.
Despite goals from Michael Kerr and Stuart Smyth, Cookstown slipped to a 3-2 reversal at home to Pembroke with Irish International Alan Sothern grabbing two for the visitors.
There has been a lot of excitement around Deramore after the summer signings of Zoe WIlson and Lizzie Colvin and they were instrumental in an opening 3-2 win for Belfast Harlequins over Monkstown.
Penalty stroke
Wilson set up Lucy Geddes for the first goal and when they went 2-1 behind it was the Irish international who stepped up to convert a penalty stroke. The winner came six minutes from the end with a Rachel Johnston deflection from a penalty corner.
All the goals at Ards came in the final quarter. Francesca Brown gave the home side the lead before Gillian Pinder equalised for Pembroke.
However, Chloe Brown's effort from a penalty corner with two minutes to go gave the Ulster side an impressive 2-1 victory.
Rachel O'Brien put newly promoted Trinity College ahead against Pegasus before the Belfast side came storming back to win 6-1 with Steph Thompson scoring twice.
Champions UCD didn't lose a game last season but were beaten 2-1 at home by Cork Harlequins thanks to goals from Roisin Upton and Naomi Carroll while Loreto and Railway Union drew 1-1.