BBC Sport - EuroHockey 2017: Fulton upbeat for play-offs after Ireland defeat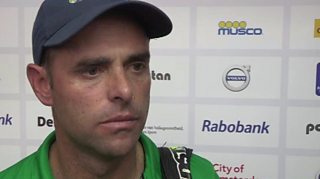 Fulton upbeat for play-offs after Ireland defeat
Ireland coach Craig Fulton hopes his team can bounce back from Tuesday's 2-1 defeat by England when they go into the EuroHockey relegation pool play-offs in Amsterdam.
A draw against England would have been enough to secure a semi-final spot but Ireland are now battling to retain their top-flight status.
Matthew Nelson put the Irish in front but England hit back with third-period goals from David Goodfield and Sam Ward when Shane O'Donoghue was in the sin-bin for an elbow offence.