EuroHockey Championships 2017: Scotland beat Russia to win promotion
Last updated on .From the section Hockey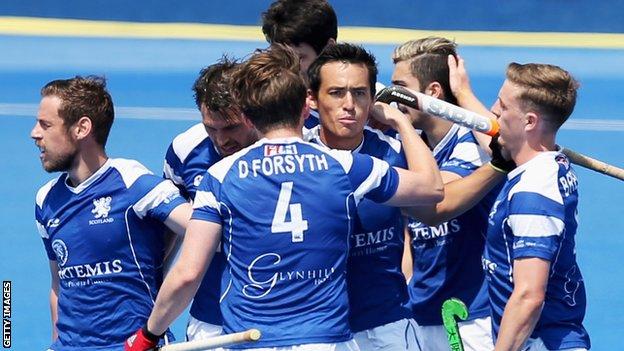 Scotland's men have won promotion to European hockey's top tier after a 4-3 victory over Russia in Glasgow.
Scotland led the EuroHockey II Championship semi-final 4-0 with 10 minutes to go but were given a scare in the closing stages.
They will now face Wales in Saturday's final, having already beaten France, Portugal and Ukraine to top Group A.
Both the winners and runners-up secure promotion for 2019, Scotland's first time in the top dvision since 2005.
Kenny Bain broke the deadlock for Scotland after 29 minutes when he fired home a penalty corner.
Ben Cosgrove netted seven minutes later from close range.
'We've done the job'
Cammy Fraser made it 3-0 after 45 minutes, and Alan Forsyth added the Blue Sticks' fourth.
Semen Matkovskiy started the late comeback from a penalty corner and after a William Marshall mistake, Pavel Plesetskii made it 4-2.
The Russians took their goalkeeper off to have 11 outfield players and it paid off with Nikolay Komarov adding a third, but Scotland held out.
"I can't really put into words how I feel, it's absolutely brilliant," said Forsyth.
"We've worked so hard, we've had our ups and downs, but to pull through the way we did says so much about this squad.
"We had a terrible last 10 minutes but it doesn't really matter, we've done the job we came to do and we'll look forward to the final tomorrow."
Marshall added: "This is my fifth Europeans in B division and it's been a struggle to find that final push and get promotion, it feels really good to finally get it.
"I'm so relieved, it feels like we were doing everything in our power to keep them in it, but when that final whistle went I was so happy."