Hamburg Masters: Ireland secure second win by beating Austria 7-2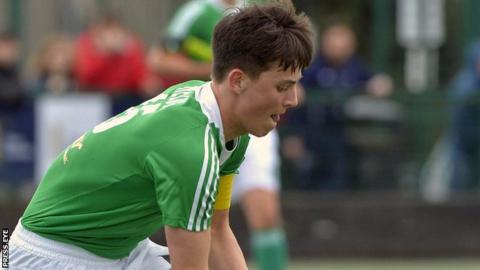 Ireland followed up their 4-1 win over Spain on Thursday by beating Austria 7-2 in their second match at the Hamburg Masters tournament on Friday.
Shane O'Donoghue scored twice, with Chris Cargo, Johnny McKee, Daragh Walsh, Stuart Loughrey and Alan Sothern also on target for Craig Fulton's side.
Michael Korpers and Diego Arana found the net for the Austrians.
Ireland will complete their campaign against Olympic bronze medallists and world ranked three Germany on Sunday.
Cargo scored the opener from a rebound in the 10th minute, with McKee shooting home the second four minutes later.
Korpers pulled one back before the interval, but Walsh and O'Donoghue scored within a minute of each other after the resumption.
O'Donoghue grabbed his second with a penalty stroke, Loughrey netted with a super flick at the back post and Sothern marked his 150th appearance with his side's seventh.
The tournament forms part of the Irish build-up to the World Cup qualifier in Johannesburg next month.
Spain and Austria are in the other pool in the World League 3 series in South Africa, but Germany are in the same pool.