Hockey: Surbiton men and women crowned national champions
Last updated on .From the section Hockey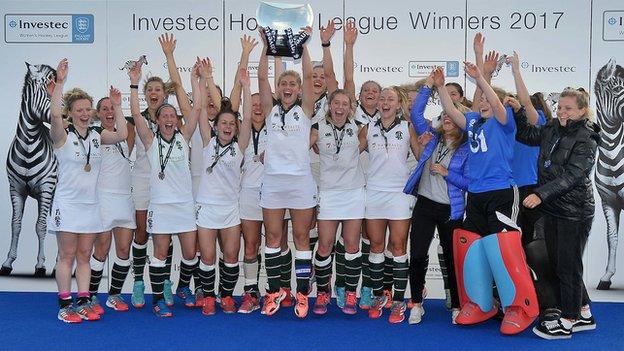 Surbiton's men's and women's teams have been crowned national hockey champions at the Lee Valley hockey centre.
In the Men's Hockey League Final, Gareth Furlong scored twice as Surbiton found the net three times in eight minutes to tie 3-3 with Wimbledon.
David Beckett then scored the final penalty to beat the defending champions 3-2 in the shoot-out.
Surbiton's women's team won their fourth consecutive title with a 3-1 victory over Holcombe.
Eleanor Watton pulled a goal back from a penalty corner for Holcombe after Giselle Ansley and Rebecca Middleton had put Surbiton 2-0 up, but Naomi Evans' late goal secured the victory.
Meanwhile, Canterbury's men's team retained their place in the top flight with a 7-2 win over Sevenoaks, while Buckingham's women were promoted to the top tier with a 4-3 win against Wimbledon.