BBC Sport - Ireland's Jonny Bell 'excited' about World League 2 tournament in Belfast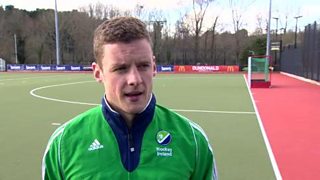 Bell 'excited' about World League Challenge
Ireland player Jonny Bell tells the BBC he is excited by the prospect of competing in a major tournament on home soil as he prepares for World League 2 in Belfast.
Ireland are fancied to make the last two of the competition and thereby qualify for the World League semi-finals in the summer.
"We are used to dealing with pressure situations so we can draw on that experience," said Bell, who need to finish in the top three to edge closer to the possibility of a place at the 2018 World Cup.
Ireland begin their group campaign against Ukraine at Stormont on Saturday 11 March, then face Austria on Sunday and Italy on Tuesday.