Women's World League 2 semi-final: Ireland 2-0 Wales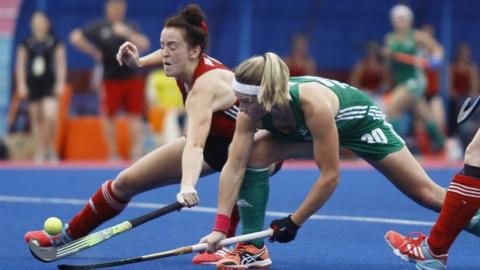 Ireland defeated Wales 2-0 in Kuala Lumpur on Saturday to secure a place in the World League 2 final and a coveted spot at World League 3.
The two goals came in two first-half minutes with Yvonne O'Byrne converting from a penalty corner for the opener.
It was followed by Anna O'Flanagan scoring on the reverse - the Irish will now face Malaysia in Sunday's final.
"We scored two good goals and limited their goal scoring opportunities," said Ireland coach Graham Shaw.
He added: "Wales played as well as expected and now we're really looking forward to taking on Malaysia in the final.
"It will be an incredible atmosphere and something we can only learn from. It's a fantastic opportunity to test how we deal with the noise from the home crowd.
"We're delighted to have qualified for World League 3 and are really looking forward to a busy summer ahead."