Scotland Men begin Hockey World Cup quest with three friendlies against Russia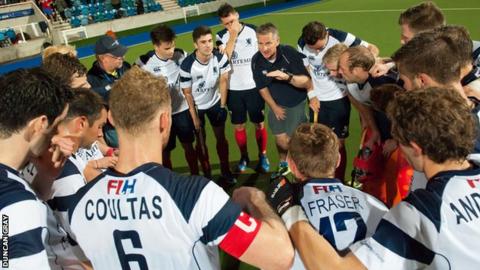 Scotland's Men will play three Tests against Russia in Spain as they begin their long journey to qualify for the Hockey World Cup for the first time.
Derek Forsyth's men will take on the Russians on 15, 16 and 18 January to first prepare for the World League 2 tournament in Belfast in mid-March.
Two nations qualify from that for the World League which brings the chance to reach the World Cup in India next year.
"The games against Russia will be a good test," said head coach Forsyth.
"This is the start of our build-up towards World League 2. The squad is looking forward to the challenges ahead throughout 2017.
"Our main aim is to ensure our participation in the Commonwealth Games Gold Coast in 2018."
Scotland will try to secure their place at the Games when they host the EuroHockey Championship II at the Glasgow National Hockey Centre on 6-12 August.
Scotland squad to play Russia in Barcelona
David Forrester (Edinburgh University)
Rory Kerr (Bromac Kelburne)
Wei Adams (Dusseldorf)
Russell Anderson (Cannock)
Tim Atkins (Reading)
Michael Bremner (Klipper THC)
Gavin Byers (Grove Menzieshill)
Ben Cosgrove (Grove Menzieshill)
Callum Duke (Hillhead)
Alan Forsyth (Surbiton)
David Forsyth (Qui Vive)
Cammy Fraser (Grange)
Ed Greaves (Nurnberger HTC)
Hamish Imrie (Schaerweijde)
Willie Marshall (Surbiton)
Lee Morton (Bromac Kelburne)
Nick Parkes (Surbiton)
Duncan Riddell (Grange)
Nick Samra (Teddington)
Jamie Wong (Edinburgh University)