Chloe Brown: Ards player out of Ireland's World League tournament in Malaysia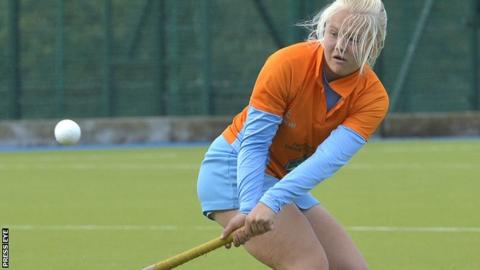 Chloe Brown is out of contention for Ireland's World League II tournament in Malaysia in January after breaking her ankle on club duty on Saturday.
The Ards player was struck by the ball during the match with Cork Harlequins at Londonderry Park and is expected to be sidelined for at least six weeks.
The Irish are already without injured skipper Megan Frazer, for the first stage of the World Cup qualifiers.
Brown says she is "devastated" by the seriousness of the injury.
She bravely played on despite being in considerable pain after the incident which occurred in the early stages of Saturday's 3-1 defeat.
Brown gutted to miss out of Kuala Lumpur
"I was standing about 10 metres away from the Cork player who smashed the ball and caught me on my ankle in the first five minutes of the match." said the 21-year-old.
"I had to hobble of as I was finding it hard to continue although I stayed on for the rest of the first quarter of the game.
"Once the second quarter started, I went back on for another five minutes to see if if could run the injury off but ended up coming off as it was too painful to sprint and even turn.
"At that point I knew something was not right so I left the game to head to the A&E department at the local hospital and they concluded that I had a fractured fibula.
"Gutted is an understatement.
"I would say I'm devastated as I was working so hard for the past four months to get fitter and stronger in order to compete for selection for the upcoming tournament in Kuala Lumpur."