Irish Hockey League: Monkstown defeat UCD to move top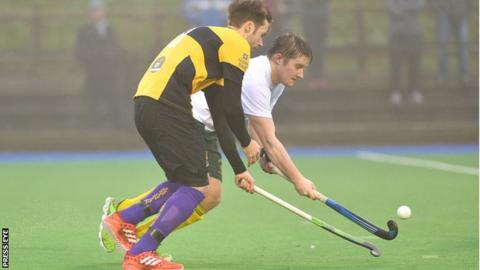 Monkstown moved to the top of the men's Irish Hockey League thanks to a 3-1 win at UCD on Saturday.
The Dublin side are two points clear of Banbridge whose game against Cork C of I was postponed because of a frozen pitch at Havelock Park.
Lisnagarvey lost for the second game in a row, going down 3-1 at Glenanne.
That result that leaves Instonians five points adrift at the bottom of the table after they lost a basement battle 4-3 at home to Railway Union.
Hermes-Monkstown maintained their 100% record in the women's IHL with a 4-1 win at bottom club Pembroke while Ards had their four-game winning run snapped by Cork Harlequins.
Pegasus drew while there were defeats for Ulster Elks and Belfast Harlequins.
Monkstown reach summit
Monkstown took full advantage of the cancellation of the game between the two sides above them in the standings, Banbridge and Cork, to move to the top of the table.
David Carson scored twice and Lee Cole was on target as well in the victory at UCD.
After having their 21-game unbeaten streak snapped by Banbridge a fortnight ago, Lisnagarey lost again with Irish international Shane O'Donoghue on target for hosts Glenanne to open the scoring from a penalty corner.
Garvey slip to fifth place, five points behind Monkstown, with Three Rock Rovers moving above them after a 2-2 draw at home to Pembroke Wanderers.
The relegation worries for Instonians increased with Glenanne's win coupled with their loss at Shaw's Bridge to Railway Union.
The game between the bottom two clubs saw Inst take the lead through William Robinson.
Despite two further goals from Matthew McCord they couldn't match a hat-trick from Mark English and a strike from Peter Catchpole for Railway as they moved five points clear of the Ulster side.
O'Flanagan treble
Another Anna O'Flanagan hat-trick, her fourth of the season, helped Hermes-Monkstown to their eighth straight win, 4-1, over Pembroke who remain without a point at the bottom of the table.
Ards saw their four-game winning streak come to an end after a 3-1 home defeat at the hands of Cork Harlequins.
Jane Kilpatrick was the scorer for Ards, who remain in fourth place but just a point ahead of Loreto after a Haley Mulcahy goal was enough to earn all three points in a 1-0 win at Ulster Elks.
Pegasus were denied a first win in five games when Kate Dillon scored from the last play of the game for Railway Union in a 2-2 draw in Dublin.
Taite Doherty and Pamela Glass netted for the Belfast side as they went ahead twice in the game, only to be denied at the death.
UCD remain in second place, four points behind Hermes, after a 2-1 win over Belfast Harlequins at Deramore.
Sorcha Clarke scored both goals for UCD sandwiched around a Jenna Watt strike for Harlequins.