BBC Sport - Irish Hockey League: Banbridge move top by beating Lisnagarvey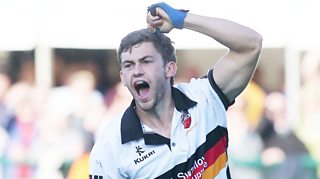 Banbridge go top by beating Lisnagarvey
Banbridge moved to the top of the men's Irish Hockey League on Sunday after a 1-0 win over Ulster rivals Lisnagarvey at Comber Road.
A penalty stroke, awarded when Johnny McKee was upended in the circle, was converted by Irish international Matthew Bell with seconds remaining in the third quarter.
After six matches, a third of the way through the campaign, Bann are a point clear of Cork Church of Ireland and Monkstown and three ahead of Lisnagarvey and Three Rock Rovers.
The defeat for Garvey ended their unbeaten league run at 21 games dating back over a year to a loss to Monkstown in the second round of fixtures last season.