Irish Hockey League: Ards defeat Harlequins at Deramore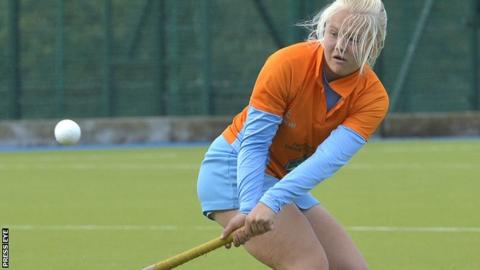 Ards were the only Ulster team in the women's Irish Hockey League to win on Saturday as they beat Belfast Harlequins 2-0 at Deramore.
Pegasus and Ulster Elks suffered Dublin defeats to UCD and Railway Union respectively while leaders Hermes-Monkstown edged Cork Harlequins 3-2.
With Lisnagarvey and Banbridge playing on Sunday, Cork C of I and Monkstown took advantage by winning their games.
They have leapfrogged the two Ulster clubs in the standings.
However, whoever wins the big game at Comber Road on Sunday will go back to the top.
Ards moved up into fifth place as second quarter goals from Irish international Chloe Brown and Kerry Harvey were enough to see off the challenge of Harlequins.
Alexander assist
Brown scored on the reverse stick while Harvey tapped in after being set up by Sara Alexander.
This was the third victory in a row for the North Down club and they'll fancy their chances of continuing that run when they face bottom club Pembroke Wanderers next Saturday.
Ards are six points behind the top three teams with defending champions Hermes-Monkstown now the only team left with a perfect record.
A last-minute strike from Nikki Evans made it six wins out of six for Hermes as they opened up a two-point lead over UCD, who edged Pegasus 3-2.
Gillian Pinder and two goals from Sorcha Clarke were enough for UCD with Alex Speers and Vanessa Surgenor replying for Pegasus, who slipped to seventh in the table.
They have a four-point gap on the bottom three of Pembroke, beaten 3-1 at Loreto, Harlequins and Ulster Elks, who lost 4-2 at Railway Union.
Cork reach summit
In the men's IHL Cork C of I moved top on goal difference from Monkstown after a 3-1 win over bottom club Instonians.
Julian Dale scored a hat-trick for Cork with the reply for Inst coming from John Watson.
Monkstown beat Pembroke 4-1 with two goals for international Kyle Good - both clubs are two points ahead of Lisnagarvey and Banbridge.
Three Rock Rovers are also just two points off top spot after a 2-0 win at Railway Union, while the game of the day was at Glenanne where the home team were 4-0 down to UCD before mounting a comeback with Stephen Brownlow scoring a hat-trick as the game finished 5-5.
Men's EY Hockey League - Saturday 12 November
Railway Union
0-2
Three Rock Rovers
Cork C of I
3-1
Instonians
Glenanne
5-5
UCD
Monkstown
4-1
Three Rock Rovers
Women's EY Hockey League - Saturday 12 November
Monkstown
3-2
Cork Harlequins
Belfast Harlequins
0-2
Ards
Loreto
3-1
Pembroke Wanderers
UCD
3-2
Pegasus
Railway Union
4-2
Ulster Elks