Lisnagarvey beat Pembroke Wanderers in Irish Senior Cup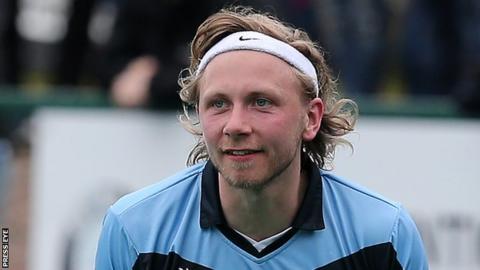 Last season's beaten finalists Lisnagarvey are through to the second round of the Irish Senior Cup after a 3-2 win away to Pembroke Wanderers.
Instonians comfortably won their Ulster derby at Portadown while Cookstown and Mossley also made next week's draw.
Belfast Harlequins were one of the Ulster clubs knocked out as they fell 4-2 to Cork Church of Ireland.
It was a penalty stroke by skipper Daniel Buser four minutes from the end which saw Lisnagarvey edge Pembroke.
Andy Williamson had given Garvey the first-half lead but Irish international Alan Sothern equalised for the Dublin side from a penalty corner 10 minutes after the interval.
Williamson restored the visitors' lead only for Maurice Elliott to level matters again.
But Buser held his nerve to slot home the crucial stroke.
At Deramore, Belfast Harlequins took the lead against Cork C of I when Luke McClelland converted a cross from Chris Lemon.
But Cork came storming back, equalising within a minute through Andrew Daunt and adding further goals from Philip Brownlow and Simon Wolfe to lead 3-1 at half time.
Stephen Sweetnam made it 4-1 but McClelland was on hand to add some respectability to the final score.
Instonians ran out 6-0 winners at Portadown with two goals each for William Robinson, Stephen Kelso and Zac McClelland.
In a battle of first against second from the Ulster League, a Keith Black strike was the only goal as Cookstown won 1-0 at Kilkeel.
Irish Senior Cup first round
Belfast Harlequins
2-4
Cork C of I
Mossley
3-0
Avoca
NICS
1-7
Three Rock Rovers
Pembroke Wanderers
2-3
Lisnagarvey
Rathgar
1-4
UCD
Kilkeel
0-1
Cookstown
Portadown
0-6
Instonians
Clontarf
1-3
YMCA
Corinthian
6-0
Raphoe