Irish Hockey League: Garvey winning run ends after draw
Last updated on .From the section Hockey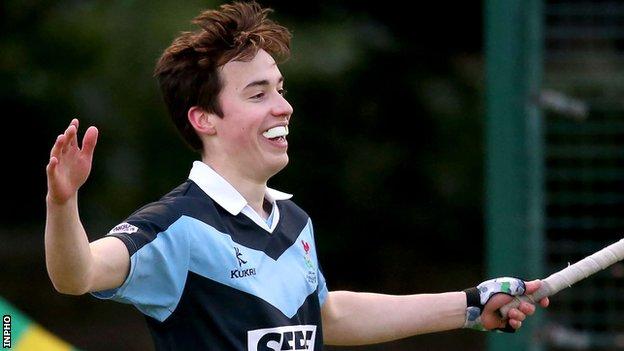 Lisnagarvey's 19-game winning streak in the IHL came to an end on Saturday but Sean Murray's late goal secured a 1-1 draw with Three Rock Rovers.
Cork C of I moved up to third in the standings with a 6-2 victory over Railway Union but Instonians remain without a point as they lost to UCD.
In the women's Irish Senior Cup first round holders Ulster Elks crashed out along with Dungannon and Lisnagarvey.
Ards are through after a 6-1 win over Leinster side Muckross.
It was a tight contest between Garvey and Three Rock Rovers at Comber Road and as the game reached its closing stages it looked like being a scoreless draw.
The visitors struck through Conor Empey with four minutes remaining but from a scramble inside the circle Murray pounced to equalise.
Garvey had a chance to win it at the very end from a penalty corner but Rovers survived.
After four rounds of matches, Garvey are a point clear of Monkstown but they can be overtaken if the Dublin side beat Banbridge at Havelock Park on Sunday while with a victory of their own Bann could join their Ulster rivals at the top.
Inst pointless
Cork C of I are up to third place after a 6-2 win at Railway Union while in the battle of the newly promoted teams UCD left Instonians still without a point as they won 3-2 at Belfield.
Two goals from Jeremy Duncan and one from Andy Keane gave the university side a 3-0 lead but Inst came within a goal of securing a draw before running out of time.
In the afternoon's other game Pembroke, with two goals from Irish international Alan Sothern, beat Glenanne 2-1.
Irish Senior Cup holders Ulster Elks are out of this season's competition in the first round, beaten 7-0 at home by Railway Union - former Irish international Emma Smyth scoring twice as Railway produced an outstanding first-half display in the pouring rain.
The Elks, who were looking to win the cup for a third season in a row, will now focus on the league.
Hat-tricks from Chloe Brown and Lucy McKee saw Ards beat Muckross while Ulster's Katie Mullan also scored three for her club UCD in a 9-0 win over Old Alex.
The other two Ulster sides in action were both beaten as Lisnagarvey went down 1-0 at home to Trinity and Dungannon were beaten 4-1 by IHL side Loreto, with the goal for the County Tyrone side coming from Laura White.
Chloe Watkins netted twice for Hermes-Monkstown as they beat Corinthian 5-0 and Cork Harlequins won the city derby beating UCC 3-0.
Men's EY Hockey League - Saturday 15 October

Railway Union

2-6

Cork C of I

Glenanne

1-2

Pembroke Wanderers

UCD

3-2

Instonians

Lisnagarvey

1-1

Three Rock Rovers
Women's Irish Senior Cup - Saturday 15 October

Ulster Elks

0-7

Railway Union

Ards

6-1

Muckross

UCD

9-0

Old Alex

Lisnagarvey

0-1

Trinity

Dungannon

1-4

Loreto

Hermes-Monkstown

5-0

Corinthians

Cork Harlequins

3-0

UCC