Irish Women's Hockey League: Hermes and Cork Harlequins continue winning starts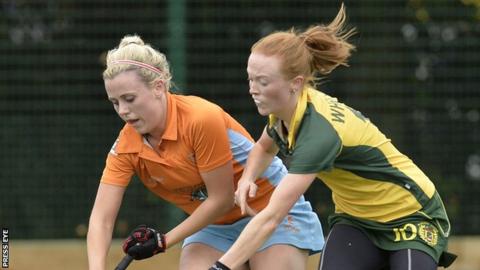 Hermes-Monkstown and Cork Harlequins continue to be the teams to beat in the women's Irish Hockey League as they maintained 100% starts to the season.
Irish international forward Anna O'Flanagan's 11th goal of the season proved enough for Hermes-Monkstown to edge out Loreto 1-0.
Cork defeated Pegasus 3-1 while Ulster Elks were beaten 4-1 by UCD.
Ards earned a first win as they saw off Railway Union 2-1 while Belfast Harlequins beat Pembroke Wanderers 2-0.
Goals from Karen Bateman, Rebecca Barry and Olivia Roycroft helped Cork beat Pegasus after Kate Morris had given the northerners the lead.
UCD remain in third place, two points behind the leaders, after their home win over the Ulster Elks.
The Elks now find themselves with only one win and in a three-way tie for ninth place after fellow Ulster sides Ards and Belfast Harlequins both recorded their first wins of the season.
Goals from Lucy McKee and Chloe Brown lifted Ards to a 2-1 win over Railway Union while Laura Johnston and Gemma Frazer were on target for Harlequins as they beat Pembroke Wanderers 2-0, a result that leaves the Dublin side rooted at the bottom of the table still in search of their first point.
Women's EY Hockey League
Hermes-Monkstown
1-0
Loreto
Cork Harlequins
3-1
Pegasus
UCD
4-1
Ulster Elks
Belfast Harlequins
2-0
Pembroke
Ards
2-1
Railway Union