Irish Hockey League: Lisnagarvey and Monkstown clinch second wins
Last updated on .From the section Hockey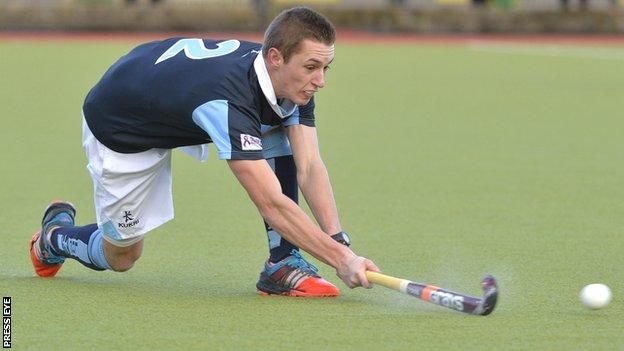 Champions Lisnagarvey and Monkstown were the only two men's sides to win both games on the opening weekend of the Irish Hockey League season.
Lisnagarvey saw off Railway Union 7-0 in Dublin while Monkstown defeated Instonians 3-1 at Shaw's Bridge.
In the women's IHL Hermes-Monkstown continued their hot scoring start as they beat Ards 5-2.
Pegasus, Cork Harlequins and Railway Union also made it two wins out of two over the first weekend.
James Lorimer scored twice from penalty corners for Lisnagarvey, with the other goals coming from Matthew Nelson, Peter McDonnell, Daniel Nelson, Andy Williamson and a penalty stroke converted by captain Daniel Buser.
Monkstown were involved in a tight, competitive contest with Instonians putting up a tough fight in the second half before succumbing 3-1 in the end.
David Carson's deft touch after only five minutes gave the Dublin side the lead and David Cole doubled that advantage in the second quarter when he scored from a rebound at a penalty corner.
After the interval Inst really give it a go and William Robinson's strike from a short corner was no more than the home side deserved.
They came close to an equaliser but Karl Smith's fine finish with five minutes remaining sealed the win for Monkstown.
Banbridge were held to a 2-2 draw at Glenanne. After going a goal behind Bann came storming back with Jonny McKee equalising and Eugene Magee putting them ahead.
However a late goal from Sam O'Connor meant the points were shared.
New boys UCD earned their first point with a 3-3 draw against Three Rock Rovers and Irish Olympian John Jermyn was on target as Cork C of I beat Pembroke 3-0.
After scoring six on Saturday in the season opening 10-1 win over Belfast Harlequins, forward Anna O'Flanagan added a hat-trick for Hermes-Monkstown as they defeated Ards 5-2.
Catriona McGilp and Lizzie Redwood scored the other goals for the defending champions with Chloe Brown and Sara Alexander replying for Ards.
Pegasus came from behind to beat Pembroke 3-1 with all the goals coming in the first half.
After Erika Hinkson gave the visitors the lead Alex Speers equalised, turning in Stephanie Thompson's pass from a well worked short corner.
Rosie Henderson put the Belfast side into the lead shortly afterwards and Speers produced a beautiful finish on the reverse stick for her second of the match.
After the heavy defeat in their EYHL debut, Belfast Harlequins put in a much better performance at Railway Union but lost 2-0 while Rebecca Barry scored for Cork Harlequins in a 3-0 win over her former club Ulster Elks.
UCD and Loreto drew 2-2.
Men's EY Hockey League - Saturday 24 September

Railway Union

2-0

Glenanne

Monkstown

3-0

Cork C of I

Banbridge

4-2

Three Rock Rovers

Lisnagarvey

3-2

UCD

Pembroke

2-1

Instonians
Sunday 25 September

Instonians

1-3

Monkstown

Railway Union

0-7

Lisnagarvey

Cork C of I

3-0

Pembroke

Glenanne

2-2

Banbridge

UCD

3-3

Three Rock Rovers
Women's Irish Hockey League - Saturday 24 September

UCD

4-0

Ards

Loreto

0-1

Cork Harlequins

Pembroke

0-3

Railway Union

Belfast Harlequins

1-10

Hermes-Monkstown

Ulster Elks

2-6

Pegasus
Sunday 25 September

UCD

2-2

Loreto

Ulster Elks

0-3

Cork Harlequins

Ards

2-5

Hermes-Monkstown

Pegasus

3-1

Pembroke

Railway Union

2-0

Belfast Harlequins