Champions Lisnagarvey and Hermes wins opening games in Irish Hockey League
Last updated on .From the section Hockey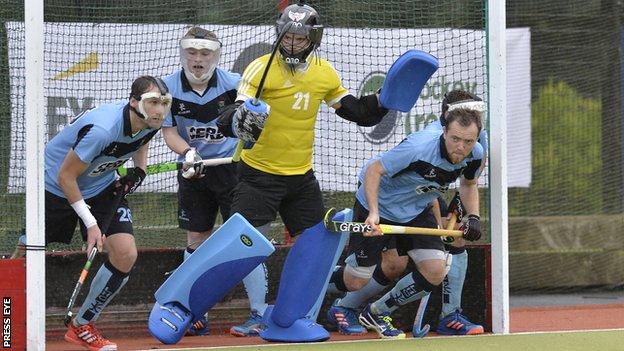 Defending champions Hermes-Monkstown and Lisnagarvey got their challenges off to winning starts as the Irish Hockey League got underway on Saturday.
Hermes-Monkstown hammered Belfast Harlequins 10-1 while last season's runners-up Pegasus defeated the Ulster Elks 6-2.
Ards fell to a 4-0 defeat against UCD in Dublin.
Garvey beat promoted UCD 3-2, Banbridge were 4-2 winners over Three Rock Rovers but Instonians lost at Pembroke.
Irish international forward Anna O'Flanagan was the individual star of the first day of the season as she helped herself to six goals as Hermes-Monkstown showed Belfast Harlequins how tough it can be in the top flight of Irish hockey.
Claire Weir's effort was merely a consolation for Harlequins, promoted last season through the play-offs, as the Dublin side showed that they have no intention of giving up their title lightly.
Pegasus forward Tate Doherty had an early effort for goal of the season when her reverse stick shot flew into the top of the Ulster Elks net after only five minutes at Jordanstown. Two goals from Ruth Maguire and one each for Suzanne Ferris, Dawn Axon and Alex Speers eased the Belfast side to a 6-2 win with Shirley McCay scoring both goals for the Elks.
Ards went down to a 4-0 defeat by UCD in Dublin with Ulster's Katie Mullan among the scorers while elsewhere there were wins for Cork Harlequins, 1-0 over Loreto, and Railway Union who beat Pembroke 3-nil.
Lisnagarvey were made to work hard by newly promoted UCD who took the lead at Comber Road before the home side came back to win 3-2. Andy Williamson, Neal Glassey and James Lorimer were the scorers.
Banbridge were involved in the game of the day at Havelock Park against Three Rock Rovers with the visitors taking the lead thanks to a goal from Irish international Mitch Darling on his return to the club.
Two goals from Matthew Bell sandwiched around one for Jamie Wright put the home side 3-1 ahead but Luke Madeley's effort set up a frantic finish with Bann sealing the points thanks to a second goal from Wright.
Instonians, in their first game in the top division, lost 2-1 at Pembroke Wanderers.
Monkstown beat Cork C of I 3-0 and Railway Union were 2-0 winners over Glenanne.
Men's EY Hockey League - Saturday 24 September

Railway Union

2-0

Glenanne

Monkstown

3-0

Cork C of I

Banbridge

4-2

Three Rock Rovers

Lisnagarvey

3-2

UCD

Pembroke

2-1

Instonians
Sunday 25 September

Instonians

v

Monkstown (13:30 BST)

Railway Union

v

Lisnagarvey (14:15)

Cork C of I

v

Pembroke (14:30)

Glenanne

v

Banbridge (15:00)

UCD

v

Three Rock Rovers (16:00)
Women's Irish Hockey League - Saturday 24 September

UCD

4-0

Ards

Loreto

0-1

Cork Harlequins

Pembroke

0-3

Railway Union

Belfast Harlequins

1-10

Hermes-Monkstown

Ulster Elks

2-6

Pegasus
Sunday 25 September

UCD

v

Loreto (14:00)

Ulster Elks

v

Cork Harlequins (13:00)

Ards

v

Hermes-Monkstown (13:00)

Pegasus

v

Pembroke (14:30)

Railway Union

v

Belfast Harlequins (16:15)