Five Ulster players in Ireland women's squad for World League 3
Last updated on .From the section Hockey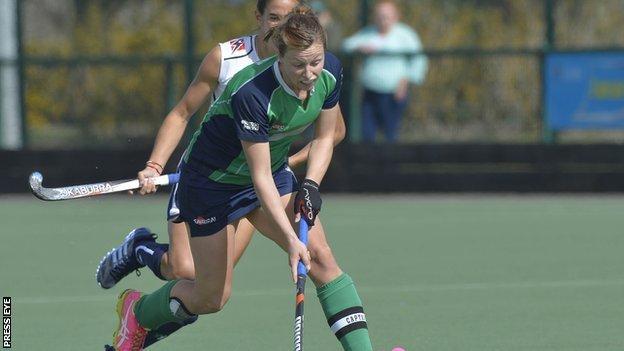 Five players from Ulster have been included in the Ireland women's squad for World League 3 in Valencia in June.
Goalkeeper Ayeisha McFerran, defender Shirley McCay, midfielders Lizzie Colvin and Megan Frazer and forward Katie Mullan are named in the panel.
The only change from the squad which won World League 2 sees Yvonne O'Byrne come in for Naomi Carroll.
Ireland will take on South Africa, Germany, Uruguay and USA in the group stages which begin on 10 June.
The Irish have just completed an intense warm-up tour in North America, with three matches against the USA and four against Canada.
"Having worked with an extended national squad over the past 12 months it has been very difficult to narrow the squad down to 18 and leave some of them at home," said coach Darren Smith.
"The squad we have selected has flexibility with multiple players able to operate in more than one layer and physically fit to cope with the heat in Spain. We feel these are the best performed athletes over the past 12 months.
"The goal is always simple in these sorts of events and that is to qualify for the 2016 Rio Olympics. We will be doing everything in our power to achieve that."
Ireland squad: L Colvin, A Connery, N Daly, K Dillon, N Evans, M Frazer (capt), E Gray, S McCay, A McFerran, H Matthews, A Meeke, K Mullan, Y O'Byrne, A O'Flanagan, G Pinder, C Sargent, E Smyth, C Watkins.