Holcombe Ladies: Steph Elliott defends recruitment strategy
Last updated on .From the section Hockey
Holcombe Ladies vice-captain Steph Elliott says their recruitment policy could help transform the domestic game.
"It is just making hockey a bit professional. I think people should be happy that is happening," the 24-year-old forward told BBC Sport.
"It would be quite good if it started happening at more clubs."
Holcombe's men's and women's teams have risen through the leagues in recent years as part of a club development strategy which has seen investment in both infrastructure and playing staff.
Great Britain and England international Maddie Hinch and Laura Unsworth helped Holcombe Ladies win the Conference East play-offs last season while their men's side missed out on promotion despite bringing in England captain Barry Middleton and team-mate Dan Fox.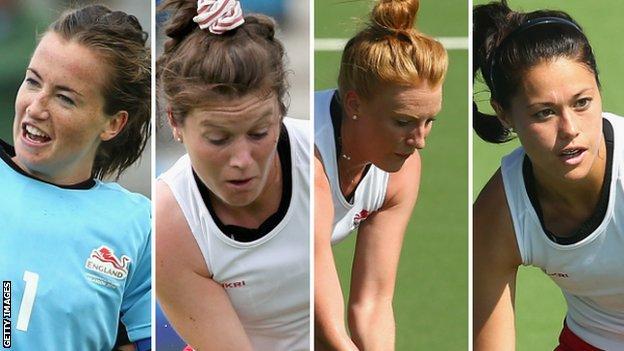 Last year Canterbury defender Mel Clewlow described their strategy of signing high-profile players as "unsustainable" - with Holcombe chairman Daniel South admitting that the club needed "a boost" to reach the top flight.
Holcombe Ladies have made further international signings this summer, adding forward Nicola White and defender Sam Quek from Leicester and Reading respectively, while George Pinner and Iain Lewers have joined the men's side.
Their approach has divided opinion in the sport.
Elliott shrugged off criticism of the club's strategy, insisting it was likely to raise standards in the game.
"It happens in other places like in Holland, and the players they get are just phenomenal," she added.
"If you can get paid for doing something you love doing, why not do it?
"There's been a little bit of chat about it but we've tried to stay out of the whole thing really and focus on our game and stick together."
Elliott, who has 10 international caps, believes the club will be able to cope with the step up to the top flight.
Elliott stresses importance of team ethic
"It is going to be a lot more difficult and it will be a big step up. The team need to be aware of that. If we keep each other going we will be fine."
"I back ourselves to do quite well. I think we've got a great team," she said.
"We want to try and be competitive in every single game and end up mid-table. If we do better that is a bonus.
"A few of the girls on our team have played in the Premier League before so I think they know what to expect.
"I have only played in the league below my whole life. From what I've seen the speed is a lot quicker and there are a lot more skilful players to contend with.
"I think it is a big step up and we need to realise that quite quickly as a side."
Elliott is starting her second season at Holcombe and was appointed vice-captain ahead of the new campaign.
She believes the club, who begin the Premier League campaign at home to Bowdon Hightown on Saturday, can succeed in the Premier Division as long as they have a strong team ethic.
"Every week will be a really tough but really different challenge," she added.
"We have got a good structure, good coaches and a good work ethic. If we keep each other going we will be fine."