EuroHockey 2013: Final in England women's sights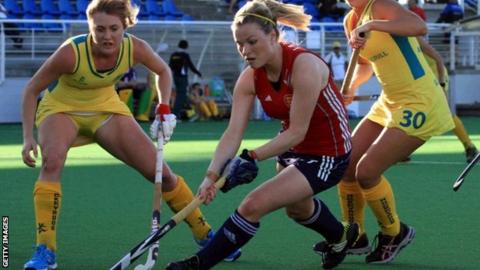 TriFinance EuroHockey Championships 2013
Venue:

Boom, Belgium

Dates:

Saturday 17 to Sunday 25 August

Coverage:

All home nations' matches will be streamed live on the BBC via the red button, online, the BBC Sport app and Connected TVs.
England's women are looking to reach their first European hockey final in more than 20 years.
English, Scottish and Irish players are all in action at the 10-day men's and women's European Championships in the Belgian town of Boom, starting on Saturday.
Many of the England women's squad won Olympic bronze medals with Team GB at London 2012, but not since England's title-winning campaign of 1991 have they made it past the Euro semi-finals.
"I've heard a lot of talk around the squad along the lines of 'I'm sick of third', so we're aiming as high as we can," said coach Jason Lee.
"The Euros will be a big test of where we are as a side. We're looking to set a standard and say 'this is how good we can be'."
England's women have ended up taking bronze at each of the past four women's Euros, stretching back to 2005, alongside Commonwealth and World Cup third-place finishes in 2010, plus last year's Olympic bronze for GB squad members.
They begin this year's bid to better bronze against world number 14 outfit Spain at 09:00 BST on Saturday, with live coverage on the BBC red button, online and the BBC Sport app.
Next year's World Cup will be hockey's biggest event before the Rio 2016 Olympics, and the 2013 European Championships form an important chance for new, younger British players to prove their World Cup credentials against the likes of Germany and the Netherlands, whose teams won men's and women's gold respectively at London 2012.
England's men surprised Germany to become European champions four years ago, but face a tougher scrap for a medal this year as a much-changed squad emerges after the disappointment of London 2012.
The atmosphere among the men is one of rebuilding - a number of veterans hung on to represent GB at their home Games but retired after falling short of a medal, collapsing to a 9-2 semi-final defeat against the Netherlands before losing the bronze play-off to Australia.
Now, younger players are filling the gaps left behind and coming to terms with last year's failure to reach the podium.
"London 2012 was the most incredible experience of my life by a long way, but it's a shame it is really tinged by how we finished," says Harry Martin, picked in the England squad for this year's Euros, who was the youngest GB player at last year's Games.
"Even as recently as a few months ago I was still thinking about it. You keep thinking to yourself: What if? Why didn't we turn up in the semi? We were so close."
The post-Olympic exodus also saw Lee switch from coaching the men's team to the women, opening the way for Bobby Crutchley's promotion from assistant to men's head coach.
Crutchley recently saw his new charges suffer back-to-back 6-1 hammerings at the hands of the Netherlands and Germany, admitting afterwards there is "work to be done".
England have since partly redeemed themselves with two entertaining draws against the Dutch in Wakefield, and - most importantly - both the men and women have secured their places at next year's World Cup.
The women did so by reaching the final of their World League third-round tournament earlier this year, losing 3-0 to Australia, and the men finished an impressive third at their qualifying event.
Crutchley said: "To predict how we will do overall is very difficult, especially given the inexperience of this side and the inconsistent results we've had recently."
Ireland's men and women have both qualified for the Euros. After a narrow 3-2 defeat by England in a friendly two months ago, the men may like their chances of coming through Pool B, where the two face each other alongside the Netherlands and Poland.
"We have drawn England as our final group game and are immensely excited about the real opportunity and challenge this game presents, particularly given some of the great potential we showed with an inexperienced new group against a very similar English side," said Ireland men's coach Andrew Meredith.
The Irish women face the Netherlands, Belgium and Belarus in their pool. Ireland's teams are both ranked 15th in the world, while England's squads are both fourth.
Scotland's women, ranked 19th and led by Team GB star Emily Maguire, are fighting to preserve their status in the European top flight. They begin against world number five side Germany on Saturday, also streamed live on the BBC.
Promoted from the second tier following the last Euros in 2011, Scotland coach Gordon Shepherd believes his players face a "difficult pool" in the form of England, Germany and Spain.
"Spain will most likely be the key fixture [on Sunday] and we are targeting this game as an opportunity to get points on the board in the pool stage," said Shepherd. Scotland were relegated at the first opportunity the last time they gained promotion, in 2009.
Neither Scotland's men nor either of the Welsh national sides qualified for the top flight, which features eight men's and eight women's teams.